On Hist Fic Saturday
Let's go back to ...1942
Arrow
21 February 2019

My thanks to the publishers for my copy of this book
Sunderland, 1942: Polly's heart and her future are hanging in the balance…
Polly's sweetheart Tommy has been declared missing while serving overseas, and although there is no certainty that he is dead, there is no guarantee that he will return home. Now Polly needs her friends more than ever, and the other women welders are ready to rally around her while she waits for news.
The only one not showing support is shipyard manager, Helen. But looks can be deceiving, and beneath her cold exterior, Helen is wrestling with demons of her own, including one life-changing decision that could lead to potential ruin.
As the war continues, the shipyard girls must support one another as they bravely soldier on.


My thoughts..
This sixth book in the Shipyard Girls series starts us off in 1942 with some bad news which will test the fortitude and resilience of one of the girls, and will ensure that the others come together to look after one of their own. The Shipyard Girls are very good at looking out for each other, and even though the effects of the war are now starting to bite really hard, there are always snippets of good humour and camaraderie to be found amongst the sadness and hardship.
What I love about this series, and this book certainly continues the theme, is the way that the author brings the North East to life, both in terms of the vernacular which rolls of the tongue with ease, or, and perhaps more importantly, in the way the warmth and kindness of the people comes across, so that the reader feels enveloped, not just in a wonderful story, but also in the sense of being part of a community.
The story spans several months of 1942 and sees the girls involved in some quite difficult and emotional story lines. As always, each of the women have an individual story to share and each of them worry what the future will bring, however, throughout their troubles the girls, as did all women during wartime, pulled together, keeping, in this case, Thompson's shipyard functioning at top speed.
Whilst it is always possible to read these stories as standalone, I do feel that it makes more sense to start at the beginning, that way you get to know and really care for these characters, who by this sixth novel, are as familiar as old friends.
Courage, friendship and love come together in another wonderful continuation of The Shipyard Girls.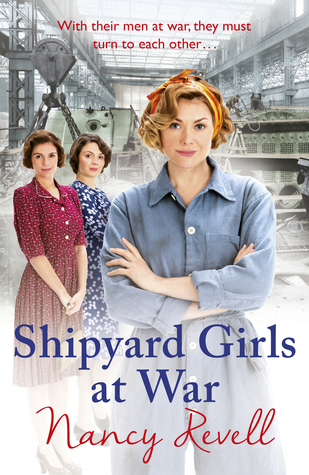 Nancy Revell is the pen name of writer and journalist Amanda Revell Walton, who has worked for the national press for the past 25 years, providing them with hard-hitting news stories and in-depth features. She has also worked for just about every woman's magazine, writing amazing and inspirational true life stories.
Twitter @arevellwalton #TheShipyardGirls