Jaffareadstoo is thrilled to be hosting today's final stop


on The Death of Mrs Westaway Blog Tour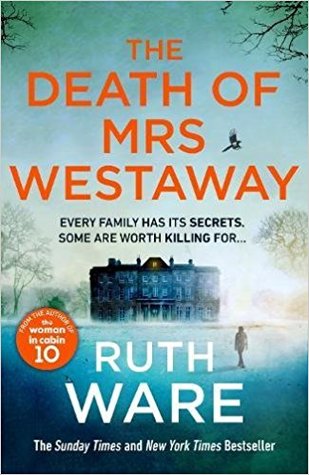 Harvill Secker
28 June 2018

My thanks to the publishers for my copy of this book and the invitation to be part of the blog tour
What's the book all about...
When Harriet Westaway receives an unexpected letter telling her she's inherited a substantial bequest from her Cornish grandmother, it seems like the answer to her prayers. She owes money to a loan shark and the threats are getting increasingly aggressive: she needs to get her hands on some cash fast.
There's just one problem - Hal's real grandparents died more than twenty years ago. The letter has been sent to the wrong person. But Hal knows that the cold-reading techniques she's honed as a seaside fortune teller could help her con her way to getting the money. If anyone has the skills to turn up at a stranger's funeral and claim a bequest they're not entitled to, it's her.
Hal makes a choice that will change her life for ever. But once she embarks on her deception, there is no going back. She must keep going or risk losing everything, even her life…
What did I think about it..
When Harriet 'Hal' Westaway receives a letter telling her that she is a beneficiary in her grandmother's will, it takes her completely by surprise as the Mrs Westaway named in the letter cannot possibly be Hal's grandmother. But without money, and being chased by loan sharks, Hal decides to take a chance and see what the proposed inheritance entails. Travelling to Trepassen House in Cornwall is the start of a momentous journey for Hal which will change her life forever.
The shadowy nature of the house comes alive, not just from the tip tap of the elderly housekeeper's walking stick, and her malevolent attitude to the Westaways, but also from the cawing and muttering of the mischief of magpies who sit ominously watching from the rooftop of Trepassen House. The whole scene is set for a stunning and deliciously creepy family drama, which has all the hallmarks of this author's special skill of bringing the disturbing to life.
There are many secrets at Trepassen House and all are beautifully revealed in story which will have you gripped from the very beginning. There is so much to learn, not just about Hal, whose character grows stronger and stronger as the story progresses, but also about the Westaways themselves, this mysterious family, for whom, at first, Hal feels no sense of familial connection.
Such is the pull of this dark mystery that even from beyond the grave the secrets that this dysfunctional family have kept so securely hidden have such a devastating effect that even the tarot cards, which Hal so cleverly controls, could never have predicted just what's hidden away at Trepassen House.
There is such a visual quality to this dark story, that I can, very easily, see The Death of Mrs Westaway being translated to film or television. I read the story, quite transfixed, over the space of an afternoon, as I quite simply couldn't put the book down.
About the Author
Ruth Ware is an international number one bestseller. Her first two thrillers, In a Dark, Dark Wood and The Woman in Cabin 10 were smash hits and appeared on bestseller lists around the world, including the Sunday Times and the New York Times. The film rights to both books have been optioned and she is published in more than 40 countries. Ruth lives near Brighton with her family
Twitter @ruthwarewriter #MrsWestaway

@HarvillSecker

@DeadGoodBooks