☼
Delighted to be one of the Blog Tour stops for this lovely book
on its Publication Day
☼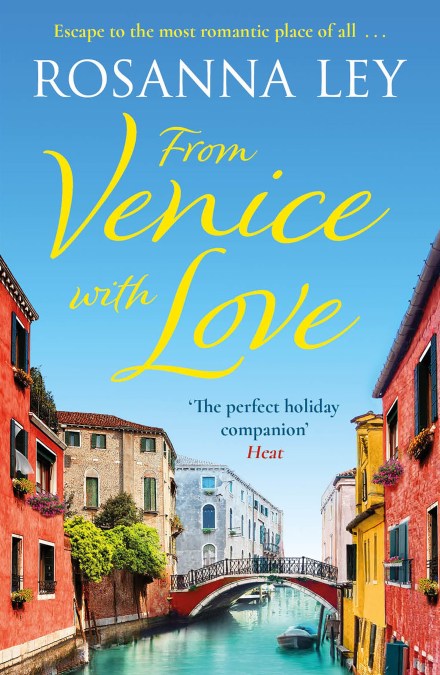 Quercus
25 June 2020

My thanks to the publishers for my ecopy of this book
and the opportunity to be part of the blog tour
The bestselling author of The Lemon Tree Hotel returns with an enchanting new holiday read about family bonds and following your heart, wherever it might take you…
With her marriage in danger of falling apart, Joanna returns home to the beautiful but dilapidated Mulberry Farm Cottage in rural Dorset, where her sister Harriet is struggling to keep the Farm afloat and cope with their eccentric mother.
When Joanna discovers a bundle of love letters in the attic, written by a watercolourist named Emmy, she is intrigued and sets out to discover Emmy's true story. Emmy's letters take Joanna to the picturesque alleyways and bridges of Lisbon, Prague, and the most romantic place of all: Venice – where a whole new magical world seems to unfold in front of her.
Meanwhile, back at Mulberry Farm Cottage, a mysterious prowler adds to Harriet's problems and interrupts her search for a perfect partner. Will she ever find true love? Where will Emmy's mesmerising pathway lead? And more importantly, will Joanna and Harriet be able to rescue the cottage and finally be able to re-discover their sisterly bond?
What did I think about it..
Joanna returns home to rural Dorset where at Mulberry Tree Farm Cottage she hopes to come to terms with what's been happening in her broken marriage. Her arrival at the cottage is viewed with apprehension by Joanna's sister, Harriet who has been coping alone, running the farm, as well as caring for their elderly mother who seems traps in a world of her own.
What then follows is delightful family drama, which this talented author does so well. There are some really lovely moments, I especially enjoyed the rather fraught relationship, Joanna has with her sister, both of them have resentments, but Harriet particularly feels aggrieved and envious of Joanna's more successful life style.
However, From Venice with Love isn't just about family angst, it's also a wonderful travelogue, the descriptions of which really bring the story to life. I especially enjoyed travelling to Venice, Lisbon and Prague with Joanna as she seeks to find answers to a tantalising family mystery, there's even a little bit of magical realism thrown in for good measure, which was an absolute joy to read.
Whenever I pick up a Rosanna Ley story I know that I am in for a very good read and From Venice with Love is no exception, in fact, I rather think that this is one of my favourite of her novels to date. It had everything I wanted, and so much more, from a summer story, sibling rivalry, friendship, family secrets, travel and a hint of romance, all are at the heart of this lovely family story which entertained me from beginning to end. I was even a little bit sad when the story ended as I didn't want to say goodbye to any of the characters 😊
About the Author
Rosanna Ley works as a creative tutor and has written many articles and stories for national magazines. Her writing holidays and retreats take place in stunning locations in Spain and Italy. When she is not travelling, Rosanna lives in West Dorset by the sea.
Twitter @Rosannaley #FromVeniceWithLove
@QuercusBooks