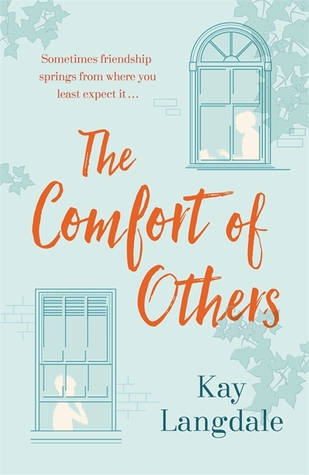 Hodder & Stoughton
June 2016
A bit of blurb..
Minnie has always lived with her sister Clara in her family's beautiful, grand, yet increasingly dilapidated house Rosemount. Now in her seventies, she finds herself looking back to a life that has been shrouded with sorrow, and a painful secret that she has guarded since her teens.
Eleven-year-old Max, who lives opposite Minnie on the housing estate built in Rosemount's grounds, has grown up happily with his single mother. But his mum has begun a new relationship and suddenly life is starting to change.
As each of them tell their stories, she via a resurrected childhood journal, him via a Dictaphone, they spot each other through their bedroom windows and slowly and hesitantly an unlikely friendship begins to form.
A friendship that might just help Max come to terms with the present and enable Minnie, finally, to lay to rest the ghosts of her past.
My thoughts about The Comfort of Others..
Max is a sensitive eleven year who is very intuitive to the needs of others but it is his specific thoughtfulness to the needs of his single parent mother where the strength of his personality really shines through. Never knowing who his father is disadvantages Max but he seems to be able to cope with his fatherless state, that is, until his mother introduces a boyfriend into the mix and quite unintentionally, disturbs the equilibrium of Max's methodical life.
Minnie is an elderly lady, who lives in the big old house on what remains of the original estate where Max and his mother now live. Locked in a bygone world Minnie starts to notice Max and gradually the two of them begin a tentative friendship. Told in alternate chapters, we get both Max and Minnie's story of their lives. Max uses a Dictaphone because he is not a confident speller and Minnie writes her journal using a beautiful fountain pen which once belonged to her father. Gradually, as the story of both their lives starts to emerge, the burgeoning relationship between Max and Minnie is quite beautiful to observe.
The power of friendship can never be overestimated and in The Comfort of Others, the author brings together two quite damaged people and with charm and sensitivity gives them the chance to tell their individual stories and somehow, together, they find common ground.
I really enjoyed this subtle and quietly confident novel which, with delicate simplicity, allows the story of two damaged people the chance to come to terms with both the past and the present.
Best Read with …A slice of cheese on toast with a cup of tea in a delicately patterned china cup and saucer.
Kay Langdale is the author of five novels: Away From You, Choose Me, Her Giant Octopus Moment, What the Heart Knows (Rowohlt, Germany) and Redemption (Transita; published as If Not Love by Thomas Dunne Books.
Follow her on Twitter @kaylangdale
~***~