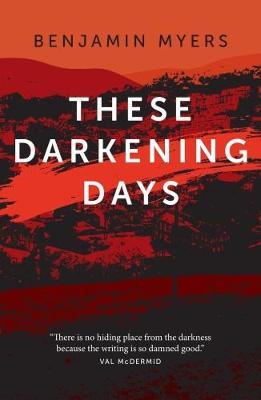 Moth Publishing
22 September 2017
Blurb...
As autumn draws in, a series of unexplained vicious attacks occur in a small northern town renowned for being a bohemian backwater.
As the national media descends, local journalist Roddy Mace attempts to tell the story, but finds the very nature of truth being brought into question. He turns to disgraced detective James Brindle for help.
When further attacks occur the shattered community becomes the focus of an accelerating media that favours immediacy over truth. Murder and myth collide in a folk-crime story about place, identity and the tangled lives of those who never leave.
Those who have read this author's previous book, Turning Blue, will be entirely familiar with both lead protagonists in These Darkening Days. Roddy Mace, the struggling journalist, once again combines forces, with disgraced, Cold Storage, detective, James Brindle, and in their own indomitable style they endeavour to find out just what is happening in this dark corner of the Yorkshire Dales.
When a woman is found brutally attacked, the police hunt is on to find the perpetrator, which in this secretive Pennine valley town is easier said than done. Before long it becomes apparent that this vicious attack is the core of something which runs much deeper, and the desperate race against time to discover the attacker is fraught with difficulties and distractions. Tensions run high and secrets run deep and neither the town nor its occupants are prepared to give up their secrets easily.
To say more would be to give far too much of this complicated plot away, so rather than spoil it, I will concentrate on the interest I have in this author, who conjures time and place so realistically that you really feel like you stalk the high Pennine moors in company with misfits and murderers. The visceral nature of these stories are not for the faint hearted, and if you haven't read Turning Blue, then I would suggest that you do before embarking on this one, as to understand the author and his writing you need to start at the very beginning. There is a dark lyricism to the stories, which is perhaps slightly more powerful in Turning Blue, which, believe me, takes a dark tale to the very extreme of darkness, but which is no less authoritative in These Darkening Days.
These Darkening Days is a compulsive and, at times, a distinctly uncomfortable read which brings rural-noir to life in a very convincing way. The brooding landscape of the high moors and the secluded nature of a small town at odds with itself is brought vividly and realistically to life.
Small town crime has never been so interesting.
Moth Publishing
2016
The depths of winter in the isolated Yorkshire Dales and a teenage girl is missing.
At a derelict farm high up on a hillside Steven Rutter, a destitute loner, harbours secrets. Nobody knows the bleak moors better than him, or their hiding places.
Obsessive, taciturn and solitary, detective Jim Brindle is relentless in pursuing justice. But he is not alone in his growing preoccupation with the case. Local journalist Roddy Mace has moved north from London to build a new life.
As Brindle and Mace begin to prise the secrets of the case from tight-lipped locals, their investigation leads first to the pillars of the community and finally to a local celebrity and fixture of the nation's Saturday night TV. 'Lovely Larry' Lister has his own hiding places, and his own dark tastes.


My thoughts about it...
In the deep darkness of a snowy winter a local girl goes missing and for this small Yorkshire town life will be disturbed to such an extent that neighbour will look upon neighbour with more than a hint of suspicion. The malevolent forces which exist and flourish in the lonely corners of this wild and unforgiving landscape give refuge to the most depraved of individuals. That these debauched residents are well known within the town gives credence to the saying that you should keep your enemies close and your friends even closer. Steven Rutter is a depraved loner, eking out a miserable existence in the dilapidated and unkempt farm he vaguely calls home. That he has been victimised and abused throughout the whole of his miserable life lends a dark fascination to the overall visceral pull of the novel.
I read Turning Blue with an almost gruesome fascination, it's not for the faint hearted and if you are offended by violence and graphic sexual description, then this is not the book, or the writer for you. It must be said that I did, at times read with one eye open and always with an air of trepidation about just what was going to happen next.
So, I will put the shocking contents aside and concentrate on the writing which is very good, and which is, at times, quite lyrical, something I really didn't expect to find in a crime novel. The Yorkshire landscape is described in awesome detail and both the place and its people come vividly to life. It took a while to get used to the author's distinct writing style, the no 'speech marks' confused me a little, but once this lack of punctuation sat more comfortably, and as the story started to bite, this, became no problem at all, but is perhaps worth mentioning.
Turning Blue is a dark and gloomy tale but which is perfectly written by an author who has given this rural noir genre a glorious new lease of life.
Benjamin Myers is an award winning writer His novel Beastings (2014) won the Portico Prize For Literature, was the recipient of the Northern Writers' Award and long listed for a Jerwood Fiction Uncovered Award 2015. Pig Iron (2012) was the winner of the inaugural Gordon Burn Prize and Richard (2010) was selected as a Sunday Times book of the year. Turning Blue (2016) was named Book of the Year 2016 by Loud and Quiet magazine and his recent novel The Gallows Pole ( 2017) has already won the Roger Deakin award.

Follow on Twitter @BenMyer1 @MothCrime



My thanks to the team at Moth Publishing for my review copies of these books
These Darkening Days will be published on the 22 September 2017


~***~