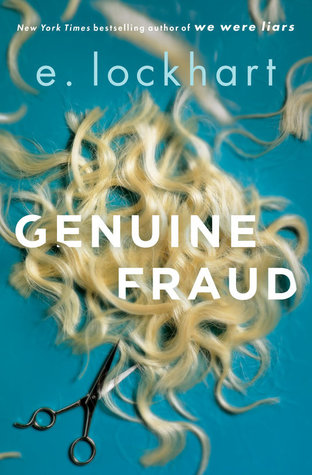 Hot Key Books
7 September 2017
Blurb:
The story of a young woman whose diabolical smarts are her ticket into a charmed life. But how many times can someone reinvent themselves? You be the judge.
Imogen is a runaway heiress, an orphan, a cook, and a cheat.
Jule is a fighter, a social chameleon, and an athlete.
An intense friendship. A disappearance. A murder, or maybe two.
A bad romance, or maybe three.
Blunt objects, disguises, blood, and chocolate. The American dream, superheroes, spies, and villains.
A girl who refuses to give people what they want from her.A girl who refuses to be the person she once was
A girl who is ....a genuine fraud
My thoughts:
It's difficult to know where to start with this one as from the very beginning there is a sense that nothing you are witnessing bears anything like a resemblance to truth. That the central character, Jule has far too many secrets is obvious from quite early on but just how this impacts on the story is revealed in pieces only where the writer thinks is necessary. The way the story is written and presented, and I won't spoil it at all by telling you what that is but it takes some getting used to and won't be everyone's cup of tea. I'll leave it for readers to decide if it works. I still have mixed feelings about it, but it certainly keeps you guessing 😁
Even after finishing the story, I'm not convinced that I fully understand everything the writer wanted to achieve, perhaps it's one of those stories which works better on a re-read, as by then you may be able to pick up the clues which are missed on a quick first read through. The initial part of the story I found sharp and snappy and I really enjoyed Jule's ability to change chameleon like when life got too complicated. It's only a short book, coming in at 260 pages, but it certainly packs a punch and is memorable because it's just that bit different from the current batch of psychological suspense novels and I applaud the author for being brave enough to shake things up a little.
If you enjoyed The Talented Mr Ripley by Patricia Highsmith then this book will most certainly appeal as, by the author's own admission, she was influenced by this author, amongst others. I especially enjoyed the literary references which are scattered like pearls throughout Genuine Fraud, especially Jule's interest in Charles Dickens and his novel, Great Expectations.
E. Lockhart is the author of nine novels, including the best selling We Were Liars.
Follow on
Twitter
@elockhart #GenuineFraud
My thanks to Tina at Bonnier Zaffre for my review copy of Genuine Fraud
~***~