Those of us who read, and who are influenced by books, tend to squirrel away our memories of all the stories we have read over the years.


And yet, there is always that one special book tucked away in the far corner of your mind which reminds you just why you love reading so much…


During July and August I've invited a few friends to share their First Remembered Read


My First Remembered ~ Classic
I'm thrilled to welcome
John R. McKay, author of Mosquitoes
My first classic - The Catcher In The Rye by J.D. Salinger.
I first read The Catcher In The Rye when I was at high school in the early 1980s having had it recommended to me by a friend. When I heard that John Lennon's killer had been holding a copy of the book when he murdered the ex-Beatle, I was intrigued to know what it was all about.
The book is written from the viewpoint of Holden Caulfield, a sixteen year old boy in 1950s America as he comes to terms with life after being expelled from school. Unable to face his parents he heads for New York City where his immaturity, naivety and sometimes juvenile behaviour eventually land him in a psychiatric ward.
The style of writing left a big impression upon me as it was a technique I had never come across before and have rarely seen since. Although the plot is nothing special, Holden's thoughts and sometimes comical way at looking at life keep the pages turning, and although he is a very flawed character, and probably not somebody, if real, you would want to spend any length of time with, you still find yourself rooting for him.
The way in which Salinger develops Holden's character and the often frank viewpoints he expresses, directly influenced my own character, 'Alex Sumner', in my novel 'Mosquitoes'.
I have since read the book a number of times and each time I do, I get something new from it. Although it is sometimes a sad tale, as you observe the decline of his mental state, it is also uplifting in many ways, as Holden tries to cling on to his childhood innocence whilst at the same time attempting to appear mature and grown-up.
Having first read the book at around the same age as Holden Caulfield was, it had a big impression upon me at the time and I still have a large fondness for it. With the passage of time, some of the vernacular may now be a little dated. However, it still remains timeless and a classic of its age, and I have no doubt I will re-visit it once again in the near future.
Linda Green, Book Blogger at Books of All Kinds
My First Classic - Pride and Prejudice by Jane Austen
The first classic that I had the pleasure to read was Pride and Prejudice by Jane Austen when I was the tender age of eleven. I always enjoyed reading and had read a few books here and there up to that point but it was this book that really kick-started my love affair with books and especially classics. Finding a copy of it at home which was probably left by my older sister, I remember curling up to read it and not putting it back down for hours. The richness of the language was new to me but instead of putting me off, it drew me in until I was a part of the story, dancing with the Bennets, or gazing up at the magnificence of Pemberley. The characters, the settings, the time period, all combined to create such a special reading experience for me that Pride and Prejudice is still one of the few books that I re-read every year.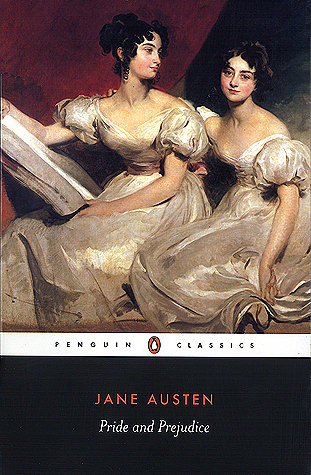 This classic also began my love for Jane Austen as well as classics in general - I even centred my dissertation at University on the beloved author.
At the last count I have five different editions of Pride and Prejudice itself, another fifteen varying editions of Jane Austen's other novels, and around one hundred classics in general, and I am certain that I became a bookworm the day I picked up Pride and Prejudice as a young girl.
Thank you so much for having me and I really love your new feature!
Huge thanks to John and Linda for sharing the memories
of their First Classic Read with me today.


Next week : My First Shakespeare