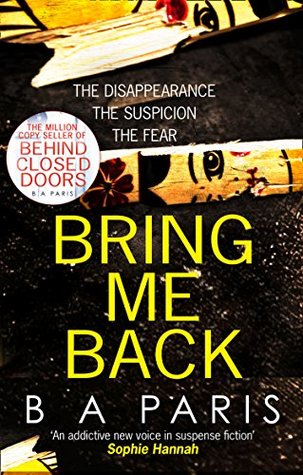 HQ
8 March 2018

My thanks to the Publishers, Lovereading and Netgalley for my copy of this book
When Finn's girlfriend, Layla, goes missing on their journey home from a skiing holiday in France, the finger of suspicion falls on him, but twelve years later and with no further clues to Layla's disappearance, Finn has moved on, but then, strange things start to happen which upsets the balance of Finn's ordered life.
What then follows is an exciting page-turner which has all the hallmarks of this author's exceptional writing. Her meticulous attention to the connection between people, and her fine observation of human frailty, is captured in this emotional story, which is rich in detail and alive with malice. The multiple story strands, which move backwards and forwards in time, gradually reveal a dark story of lies and deceit and as we get further into the nitty-gritty of the story, so the chill levels start to rise.
I raced through Bring Me Back at top speed as the concise chapters lend themselves to speedy reading. And as the story evolves, so the need to know more about what's going to happen next gets more and more gripping. Over the course of the book, I tried to second guess where the plot was taking me, only to have it veer off in a completely unexpected direction.
There is no doubt that this talented author has captured the domestic noir genre to perfection and her ability to control a complicated plot whilst holding the reader's attention, from start to finish, is to her credit.
Bring Me Back is a taut and tight psychological thriller with more than enough suspense to keep you guessing from beginning to end.
I read Bring Me Back for the Love Reading Review Panel which you can find by clicking here
About the Author
B A Paris grew up in England but has spent most of her adult life in France. She has worked both in finance and as a teacher and has five daughters. Bring Me Back is her third novel.
Twitter @BAParisAuthor #ForgetSleep #BringMeBack

@HQstories @Lovereadinguk