I am delighted to welcome Choc Lit author
What Makes the Perfect Heroine?
I was once asked, "What is your perfect heroine?" It was a simple question and the answer was easy … or so I thought. I stirred my cappuccino as I considered my reply and eventually answered, "She has to be nice." It was a lame answer and one that my English teacher would have scolded me for. The word "nice" didn't quite sum up what I meant. The word was just too ... well … nice.
The topic moved on to something else quite unrelated to writing, so it was much later when I thought about the question again. I realised the heroine had to be someone I, as a reader, wanted to spend time with as I accompanied her on her fictional journey.
I realise that there are many unlikeable heroines who have propelled their authors to the bestseller list. Amber in Forever Amber and Scarlet in Gone with the Wind are manipulative and shallow women. They are not the type of woman I would want to befriend, yet these heroines are some of the most successful in the literary world. Readers identified with their inner strength and determination to succeed. These unique women were not the "perfect" heroine.
However, the perfect heroine can be just as annoying to read about. She has beauty, education, cares for wounded animals, the homeless … even the rat in the pantry. She has medical knowledge to heal every wound, can shoot, ride, dance and play the minuet with her eyes closed. In her spare time she teaches orphans three languages and men fall at her feet. No, she is not my perfect heroine. A little too much perfect is like too much sugar, too nauseatingly sweet and makes me prone to feelings of inadequacy.
A writer has to strike the right balance. If she doesn't, the heroine risks being thrown in the bin or deleted into hyperspace, along with the rest of the characters in the book!
So when I became a writer, I made a list of attributes for my perfect heroine and the list went something like this:
- Feminine without being weak.
- Shows both strength and vulnerability.
- Shows kindness without being over indulgent or saintly.
- Shows wit without being prickly or sarcastic.
- Has fears, insecurities and imperfections, but finds the courage to overcome them.
- She can change her mind without appearing fickle.
It was a tall list, but one I kept in mind when I wrote the heroines in The Thief's Daughter and The Captain's Daughter.
Jenna, in The Thief's Daughter, is loyal, resilient and brave, but these same admirable qualities lead her into trouble when she feels unable to refuse her brother's request for help. Jenna also has weaknesses and insecurities which she has to learn to overcome.
Janey, in The Captain's Daughter, starts out naïve, but events beyond her control force her to become wiser and stronger until others look to her for her strength and courage. According to my list, they are my perfect heroines for the simple reason they are imperfect, but have a hidden strength … just like the rest of us.
The Thief's Daughter is now available to purchase in paperback and eBook and The Captain's Daughter is available to buy as an eBook.
Hide from the thief-taker, for if he finds you, he will take you away ...
Eighteenth-century Cornwall is crippled by debt and poverty, and the gibbet casts a shadow of fear over the land. Yet, when night falls, free traders swarm onto the beaches and smuggling prospers.
Terrified by a thief-taker's warning as a child, Jenna has resolved to be good. When her brother, Silas, asks for her help to pay his creditors, Jenna feels unable to refuse and finds herself entering the dangerous world of the smuggling trade.
Jack Penhale hunts down the smuggling gangs in revenge for his father's death. Drawn to Jenna at a hiring fayre, they discover their lives are entangled. But as Jenna struggles to decide where her allegiances lie, the worlds of justice and crime collide, leading to danger and heartache for all concerned ...
For buying options click
HERE
.
The Captain's Daughter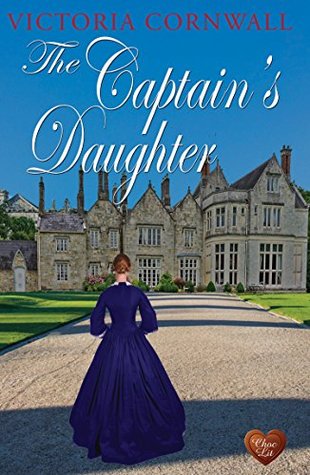 Sometimes you need to discover your own strength in order to survive …
After a family tragedy, Janey Carhart was forced from her comfortable life as a captain's daughter into domestic service. Determined to make something of herself, Janey eventually finds work as a lady's maid at the imposing Bosvenna Manor on the edge of Bodmin Moor, but is soon caught between the two worlds of upstairs and downstairs, and accepted by neither, as she cares for her mistress.
Desperately lonely, Janey catches the attention of two men – James Brockenshaw and Daniel Kellow. James is heir to the Bosvenna estate, a man whose eloquent letters to his mother warm Janey's heart. Daniel Kellow is a neighbouring farmer with a dark past and a brooding nature, yet with a magnetism that disturbs Janey. Two men. Who should she choose? Or will fate decide.
For buying options click
HERE
.
Author Bio
Cornish born author, Victoria Cornwall, can trace her Cornish roots as far back as the 18th century. This background and heritage has given her an understanding and knowledge of Cornish rural life which is the inspiration for her writing.
Following a fulfilling twenty-five year career as a nurse, a change in profession finally allowed her time to write. Her writing has been shortlisted for the New Talent Award at the Festival of Romantic Fiction in 2014 and her debut novel, The Thief's Daughter was a finalist in the Romantic Novelists' Association's Joan Hessayon Award.
She likes her romance books to have a strong background story but at the centre is the unmistakable emotion, passion and even pain of loving someone.
She is married with two grown up children.
Twitter: @VickieCornwall
Instagram: www.instagram.com/victoria_cornwallx
Pinterest: uk.pinterest.com/vickiecornwall/
Huge thanks to Victoria for her wonderful guest post today and also to Lusana at Choc Lit for her continued support of Jaffareadstoo.
~***~