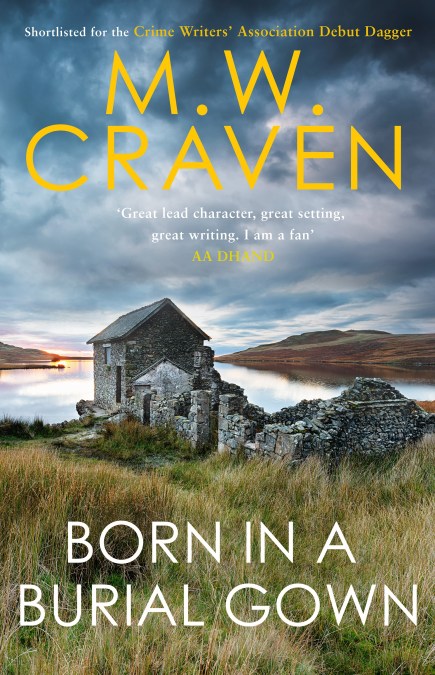 Constable
Little Brown
9 January 2020

Avison Fluke #1

My thanks to the author and publisher for my copy of this book


The first gritty thriller in the Avison Fluke series by M. W. Craven, the acclaimed author of The Puppet Show.


Detective Inspector Avison Fluke is a man on the edge. He has committed a crime to get back to work, concealed a debilitating illness and is about to be made homeless. Just as he thinks things can't get any worse, the body of a young woman is found buried on a Cumbrian building site.
Shot once in the back of the head, it is a cold, calculated execution. When the post-mortem reveals she has gone to significant expense in disguising her appearance, Fluke knows this is no ordinary murder.
With the help of a psychotic ex-Para, a gangland leader and a woman more interested in maggots than people, Fluke must find out who she was and why she was murdered before he can even think about finding her killer…
What did I think about it..
Whenever I visit the English Lake District I am in awe of its unspoiled beauty, the majesty of its hills and mountains and the splendid isolation of its hidden crags. Born in a Burial Gown has its focus in Cumbria, as this is the place that Detective Avison Fluke calls home, however, we are about to discover that there are darker elements at play in this beautiful part of the country.
Born in a Burial Gown is the first in the Fluke series, so there's a certain amount of getting to know the main characters. Detective Inspector Avison Fluke, the lead detective of the Force Major Incident Team, is a fascinating character, he's stubborn, unpredictable and a bit of a maverick and I warmed to him immediately. Fluke is everything you want in a lead detective but from the outset we realise that all is not well in his world, however, his work ethic exceeds his own personal cost and from the start we understand that Fluke is a detective who isn't in the business of messing around when there's a murder investigation to get sorted.
The mystery at the heart of the novel is complex and convoluted, both gritty and dark in equal measure with a realistic sense of the unpredictability of a police investigative team working together. The characters who make up the FMIT are an odd bunch and at first glance seem like a team of misfits and yet, they all have their own individual strengths, and none more so than Fluke's oppo, DS Matt Towler, who has a similar military background to Fluke and a shared past which is alluded to as the story progresses.
I'm deliberately not sharing any spoilers about Born in a Burial Gown except to say that it is a really cleverly constructed murder/mystery and a cracking good introduction to what promises to be an addictive crime series.


Originally published in 2015, the first two novels in the Fluke series are being reissued on the 9th January.
M. W. Craven was born in Carlisle but grew up in Newcastle, running away to join the army at the tender age of sixteen. He spent the next ten years travelling the world having fun, leaving in 1995 to complete a degree in social work with specialisms in criminology and substance misuse. Thirty-one years after leaving Cumbria, he returned to take up a probation officer position in Whitehaven, eventually working his way up to chief officer grade. Sixteen years later he took the plunge, accepted redundancy and became a full-time author. He now has entirely different motivations for trying to get inside the minds of criminals . . .
Twitter @MWCravenUK

@TheCrimeVault