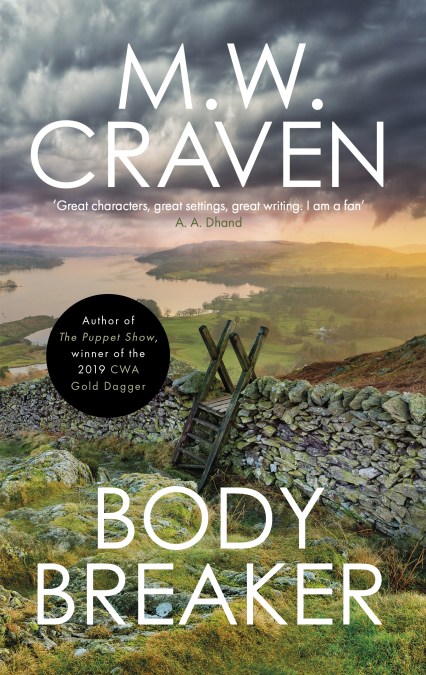 Constable
Little Brown
9 January 2020
Avison Fluke #2

My thanks to the author and publisher for my copy of this book
The second dark and twisted thriller in the Avison Fluke series by M. W. Craven, the acclaimed author of The Puppet Show.,
Investigating how a severed hand ends up on the third green of a Cumbrian golf course is not how Detective Inspector Avison Fluke has planned to spend his Saturday. So when a secret protection unit from London swoops in quoting national security, he's secretly pleased.
But trouble is never far away. A young woman arrives at his lakeside cabin with a cryptic message: a code known to only a handful of people and it forces Fluke back into the investigation he's only just been barred from.
In a case that will change his life forever, Fluke immerses himself in a world of New Age travellers, corrupt cops and domestic extremists. Before long he's alienated his entire team, has been arrested under the Terrorism Act – and has made a pact with the Devil himself. But a voice has called out to him from beyond the grave. And Fluke is only getting started…
What did I think about it..

When a severed hand is found on the third green of Cockermouth Golf Club it leads DI Avison Fluke and the Force Major Incident Team into a very dark and dangerous investigation which has its roots in Cumbria but which takes Fluke into some of the darker areas of his past. There's a discussion amongst the FMIT in Body Breaker about who it was who said that 'golf is a good walk spoiled' and regardless of who was responsible for the phrase there's no doubt that the round of golf at the start of this novel is one that the golfers, and detectives, won't forget in a hurry.

By any stretch of the imagination Body Breaker is a powerful thriller. It's filled with all the twists and turns we have come to expect from this talented writer, with a cast of returning characters who literally leap fully formed from the page. The plot, as ever, moves along at a cracking pace, and as we learned from the first book in the series, Fluke is a detective who does things entirely his own way which sometimes means acting in an entirely unorthodox manner in order to get results, but hey, this is fiction after all, and a flawed and unconventional lead detective adds a fascinating dimension to another gritty murder investigation, which has more than hint towards terrorist activity.
This second book in the series is no less convoluted than the first, and whilst it can be read as a stand alone story, there are some finer points of character progression which would be entirely lost without prior knowledge, so my recommendation is that you should start with Born in a Burial Gown and enjoy this excellent series from the start.


Originally published in 2015, the first two novels in the Fluke series are being reissued on the 9th January.


M. W. Craven was born in Carlisle but grew up in Newcastle, running away to join the army at the tender age of sixteen. He spent the next ten years travelling the world having fun, leaving in 1995 to complete a degree in social work with specialisms in criminology and substance misuse. Thirty-one years after leaving Cumbria, he returned to take up a probation officer position in Whitehaven, eventually working his way up to chief officer grade. Sixteen years later he took the plunge, accepted redundancy and became a full-time author. He now has entirely different motivations for trying to get inside the minds of criminals . . .
Twitter @MWCravenUK
@TheCrimeVault