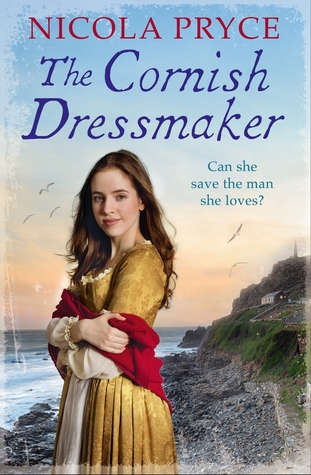 Corvus
3 May 2018

My thanks to the publishers for my copy of this book
What's it all about..
Cornwall, 1796.
Seamstress Elowyn Liddicot's family believe they've secured the perfect future for her, in the arms of Nathan Cardew. But then one evening, Elowyn helps to rescue a dying man from the sea, and everything changes. William Cotterell, wild and self-assured, refuses to leave her thoughts or her side - but surely she can't love someone so unlike herself?
With Elowyn's dressmaking business suddenly under threat, her family's pressure to marry Nathan increasing, and her heart decidedly at odds with her head, Elowyn doesn't know who to trust any more. And when William uncovers a sinister conspiracy that affects her whole world, can Elowyn find the courage to support the people she loves in the face of all opposition?


My thoughts about it..
In The Cornish Dressmaker we travel back to the late eighteenth century, back to a very different world where women were only deemed to be as good as the man they married, and even though Elowyn Liddicot is a successful seamstress, it is still considered more important that she marries well. Being courted by local man, Nathan Cardew, appears to be a good match, that is, until the wild and mercurial, William Cotterell appears in the most unlikely of circumstances and totally disturbs Elowyn's peace of mind.
Elowyn's inherent connection to the wild and windswept coastline and her association with the great and the good of the area give her a certain amount of social status, and yet, with social recognition comes responsibility, and Elowyn finds out, to her cost, that her kind heart and compassionate nature, may result in her social downfall. Discovering secrets about her family puts Elowyn in a quandary which will place those around her in grave danger. The struggle that takes places as Elowyn fights to discover those secrets is never going to be straightforward and that's what makes the story so appealing.
Wonderfully recreating the past in a very believable way, The Cornish Dressmaker brings to life all the sights, sounds and atmosphere of a Cornish village. A village which, though beholden to its heritage past, is also struggling with a fair amount of poverty, and as families fall on hard times, there are also those who are determined to exploit them with underhand dealings. The twists and turns in the plot add a frisson of excitement as the Cornish world with its chequered history of illicit smuggling, and tin and clay mining comes gloriously to life.

In this third book of the series, the author has continued to weave a wonderful story about characters who are now as familiar as friends, and returning to the Cornish villages of Fosse and Porthcarrow now feels like coming home. The story flows beautifully and the characters who flit into and out of the story add such warmth and depth that you can't help but be carried along with them as their story unfolds.
It's perfectly possible to read The Cornish Dressmaker as a standalone story although, as always, with any series, it's much better to have followed the series from the beginning.



Nicola Pryce trained as a chemotherapy nurse before completing an Open University degree in Humanities. She is a qualified adult literacy support volunteer and lives with her husband in the Blackdown Hills in Somerset. Together they sail the south coast of Cornwall in search of adventure.