I am delighted to welcome
Paula Daly
Author of


Bantam Press
March 2014
Paula ~ welcome to Jaffareadstoo and thank you for finding the time to chat about your book
What can you tell us about Keep Your Friends Close that will pique the reader's interest?
The novel is about a woman whose best friend steals her life, and it has a great villain – equal parts sexy and nasty.


Where did you get the first flash of inspiration for the story?
I was having dinner with a friend who had been unlucky in love, and she was complaining of the fact that she found it hard to meet someone. Without really thinking, I replied, "You don't have any problem meeting someone; it's snaring them that's your trouble."
Then I started to think about all the ruthless, driven women I've known, and the lengths that they would go to snare a man.
And then I thought - what if such a woman set her sights on my husband. And I was powerless to stop her?
Do you outline the plot first, or do you let the story go wherever it takes you?
I spend a few months day dreaming about the plot and characters, doing any research I think will be relevant, and then I do a short outline. Nothing major, two or three sides of A4 – basically a scene list. Of course this will change a little as I go along but I tend to know most of it before I start. Then I can have fun with the characters, with their dialogue, and try to come up with interesting locations, rather than worrying about where the novel is heading and if it makes sense.
Do you ever base your characters on people you know?
Never. I work out my characters beforehand so that they fulfil a role in the novel. That way I can keep the cast small and hopefully memorable. I do give them lines of dialogue I hear when I'm out and about, and sometimes a world view of people I have known, but a single character is never based on one person.


What do you think makes a good fictional villain?
A thriller is only as strong as its villain. I spend a lot of time figuring out my baddie's motivation, as there's nothing more deflating than a villain without a real reason for doing the things they do. Once you know what's driving a person, and the lengths they'll go to get what they want, then I think you've got a convincing villain. I want you to be almost championing them in some scenes, as I think it makes for a better story.
If Keep Your Friends Close was optioned for a TV drama, who would you choose to play Natty, Sean and Eve ?
It's tricky to come up with the whole cast but I do think Emily Blunt or Rosamunde Pike could play Eve particularly well.
Can you tell us what you are writing next?
The next book has the same premise as the film Indecent Proposal but has been reimagined as a thriller. It will be out in May 2015 and is more of a standalone this time, though DC Joanne Aspinall does have a small role.



Paula ~ thanks so much for sharing your thoughts on Keep Your Friends Close. It's been a real pleasure to host this interview.
***
And for two lucky winners
Paula is very kindly offering the chance to read one of her books in this fabulous UK only giveaway.
There's one copy of Just What kind of Mother Are You?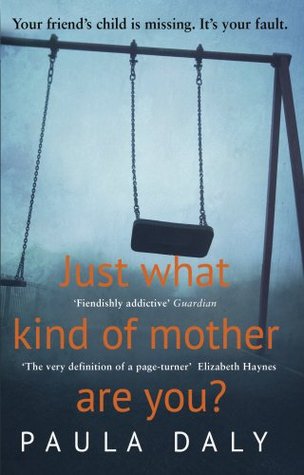 or
Use the comment box below to tell me which book you would like to win
if you don't tell me you won't win it.!!
**Good Luck**