A lovely summer read.....
Published by Harper
5 June 2014
Maggie Carter is expecting her first baby and her natural apprehension is tinged with more than a hint of sadness. Despite the love of her husband, James, Maggie misses her mother, who before her untimely death reiterated to Maggie that she could do anything that she set her mind on. For Maggie is visually impaired and whilst this is no real barrier to her successful career as an aromatherapist, she does naturally worry how she will cope with the responsibility of a baby. When Maggie, meets Elsa in the park, the two women form an unshakeable bond, which will prove to have an interesting effect on the people around them.
What then follows is a lovely story about the trials and tribulations of motherhood. The joys and sadness of the ties which bind us together and of what happens when life doesn't always work out the way it was planned. The story is nicely written with a fine attention to detail and an intuitive look at what life is like for someone with visual impairment. I think the balance achieved was just right, never patronising nor condescending, in fact there were vast tracks of the story where I forgot altogether that Maggie couldn't see. And yet, when the reminders came, in the form of Harvey, Maggie's guide dog, it was a real pleasure to see how this stalwart young woman seemed to cope with, not just impending motherhood, but also with the challenges of her daily life.
There is a wonderful array of supporting characters who flit into and out of the story, but the perhaps the most poignant is the emotional connection between Ted and Elsie, an elderly couple coping with the onset of Alzheimer's and of the upsetting way this deadly disease encroaches on both their past and present.
So, overall, this was a lovely easy read and just perfect for reading in the garden with a nice cool glass of lemonade.
My thanks to Jaime Frost at Harper for my review copy of this book.


About the Author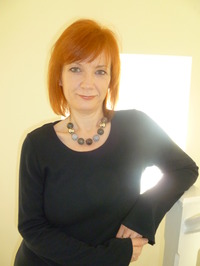 *~*~*