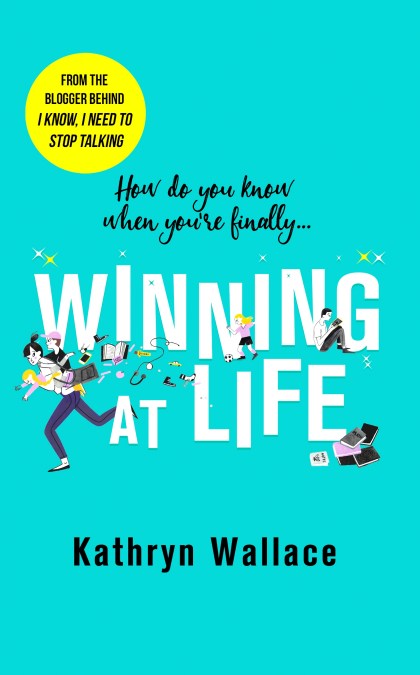 Sphere
6 February 2020

My thanks to the publishers for my copy of this book
A funny and uplifting novel about parenting by the author of Absolutely Smashing It and internet sensation behind the fantastically funny I Know, I Need to Stop Talking.
It's back to a new school term for the kids. Their mums – Gemma and Becky – are breathing a huge sigh of relief and reaching for the gin bottle. Except for the fact that Becky appears to be accidentally a little bit pregnant…
But that's not the first shock for the parents in the playground. Over the summer, part of their beloved Redcoats Primary has burned down. The school needs to raise thousands of pounds to stay open – and Gemma and Becky have been forced on to the fundraising committee (just to add to the millions of messages from their online parent groups).
In a year that will see new babies (for Becky), new schools (for Same), and a whole new business for Gemma, will they all keep their heads above water – and find out that they're #winningatlife?
What did I think about it..
I haven't read,
Absolutely Smashing It
, the book that precedes this one, which first introduces Gemma and her children, Sam and Ava, but that really didn't matter as I was soon caught up in Gemma's world as she struggles with being a single parent, whilst at the same time trying to keep her home and burgeoning love life on track.
There's so much to enjoy in this novel which looks at all the vagaries of modern life, from getting your children up and ready for school, juggling a full time and demanding job, to all those other complicated bits and pieces which make up the minutiae of the daily workings of a modern family. When her children's primary school burns down, Gemma, along with her best friend, Becky, somehow gets drawn into the fund raising committee with some really funny results.
I've really enjoyed this light hearted look at families and of the very real problems which can seem absolutely huge at the time and can threaten to get out of all proportion. The author brings her characters alive with a real dollop of realism whilst at the same time keeping everything witty and laugh out loud funny. In particular, Gemma's children Sam and Ava are great little characters and I found myself laughing so much at Ava, she's brilliant and a real breath of fresh air. It's quite sweary in places but never offensive and that adds to its charm as you're never quite sure what the children, particularly Ava is going to say, or do, next.
The author writes well with a light and easy style so that it feels like you're having a chat with your best friend over a coffee or a glass, or two, of wine.
Recommended
✅if you like feisty, fun reads about family, friendship and love.
Kathryn Wallace is an experienced blogger, whose writing career started with a post that she wrote about her front bottom's run in with some mint and tea tree Original Source shower gel went viral and ended up being ready by more than 30 million people globally. #lifegoals. A full-time working parent, Kathryn somehow finds the time in between regularly losing her shit and screaming "TEETH! HAIR! SHOES" on repeat to update her blog. I know, I Need To Stop Talking, which has around 175,000 followers on Facebook and is growing rapidly. In her spare time, Kathryn likes to lie face down on the sofa screaming silently into a cushion or attempt to convince her children that urination doesn't require an audience.
Twitter @IKINTST #WinningatLife
@LittleBrownUK