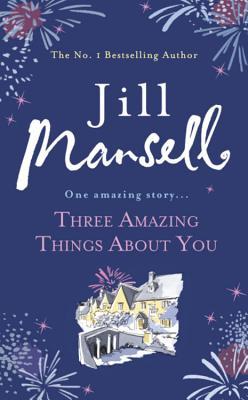 Headline Review
2015
There's always something comforting about picking up the latest Jill Mansell book. You just know that the story will flow beautifully, the characters will be infused with warmth and wit and that before too long at least one of them will be tugging away at your hearts strings. Three Amazing Things About You tackles the sensitive issue surrounding organ donation but does so in away that will have most readers reaching for their organ donor card or logging onto the donor website.
As always the writing is good, the story draws you in from the beginning and the characters become as familiar as friends. The author makes you care about each and every one of them until you can't stop turning the pages until you find out how it all works out.
To say too much about the nitty gritty of the story would be to spoil the overall effect but what evolves is the story of ordinary people going about their daily lives until something happens which makes them all realise that the greatest gift anyone can give, is the gift of life.
A perfect summer read and easily one of those novels that slips easily into your travel bag for use pool side, preferably with a tall glass of something ice cold and sweet nearby.
My thanks to Bookbridgr and Headline Review for my copy of this book.



~***~



I'm giving away my copy of this book.

Leave a comment on here or on Goodreads / Facebook / Twitter to be in with a chance to get this one for free (UK only)

Those interested know where to find us !


You've got until the end of July to enter - after that names will go into Jaffa's Hat.


***