The tragedy and comedy that is Jack's life; is there a future for him and Anna, or is the past too destructive?
Jack Redman, estate agent to the Cheshire set and skilled juggler of complex relationships. Someone to break all the rules, or an unlikely hero? In this sequel to Wild Water Jack and Anna return to discover that history repeats itself. Anna's long-awaited success as a serious artist is poised to happen, but her joy, along with her relationship with Jack, is threatened by old scores.
Simon Banks is a depressed and unstable man with a plan. He wants to wipe out his past by buying a brighter future, but Jack Redman stands in his way. Will Jack ever escape the legacy of lies and deceit left by his ex-wife? Can Jack and Anna hold it all together, or will tragic repercussions from Jack's past blow them apart forever?
I already have my copy - if you want your copy go to :
Extract from DARK WATER:
She knelt on the cold tiles and buried her face in his coat. It seemed cruel that it was still so vibrant and luxurious other than a light greying around his muzzle, and yet everything inside was breaking down. The top of his head smelt intoxicating, of grass and adventure, of selfless, unconditional love. Did love have a smell? And it smelt of home, faint traces of lavender from his newly washed blanket.
Jack was on the phone in the hall, his voice low, words indistinguishable.
It was a beautiful summer day, full of rolling clouds, light and shade. It was like the day he'd been born, she said. Jack carried him to the apple trees fluttering with white ribbons, horseshoes and hearts. As they neared the right spot, hundreds of crows took flight. She sat propped against one of the twisted trunks and Jack struggled to put the dog down on the ground next to her. Then he kissed her face and went to fetch her some coffee.
They settled together in the long grass and Benson's nose twitched as she talked.
Presently, two vets arrived, one of them a young trainee, who kept staring at her soiled dressing gown and all the crazy decorations in the garden. They examined the dog and the older vet said he'd likely had a stroke and did she still want to go ahead with euthanasia? They were gentle without being sentimental. She nodded, Benson's head in her lap, his useless limbs spread on the grass. Jack was silhouetted against the sky, chewing a nail. The trainee vet shaved a neat patch of hair from Benson's foreleg, while the other one hunkered down next to her with some paperwork.
'Miss Williams, I need you to understand that once I have administered this injection, your dog will be clinically dead.'
Jack muttered some expletive and turned away. She knew he was wiping his eyes.
'I understand,' she said, and signed somewhere in the indicated box.
One hand on his beating heart as the lethal drug seeped into his bloodstream, both eyes on his. He licked her hand, almost twice, and even then it seemed apologetic, as if he was trying to comfort her.
I'll see you on another dappled lawn, or a bright sunlit mountain under a thousand cloudless skies.
His silent heart, his soulless eyes. Instant, the giving and taking of pain. Now, all the pain was hers, and weirdly, there was some comfort in that.....
© Jan Ruth all rights reserved.
If you haven't read book one then take advantage of its special price on Amazon but hurry as this price is only for a short time.
WILD WATER (Part One)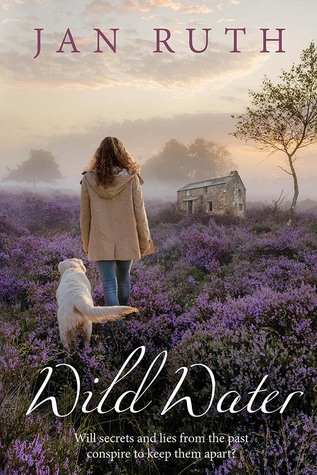 The tragedy and comedy that is Jack's life; secrets, lies and family ties.
Jack Redman, estate agent to the Cheshire set. An unlikely hero, or someone to break all the rules? Wild water is the story of forty-something estate agent, Jack, who is stressed out not only by work, bills and the approach of Christmas but by the feeling that he and his wife, Patsy are growing apart. His misgivings prove founded when he discovers Patsy is having an affair, and is pregnant. At the same time as his marriage begins to collapse around him, he becomes reacquainted with his childhood sweetheart, Anna, whom he left for Patsy twenty-five years before. His feelings towards Anna reawaken, but will life and family conflicts conspire to keep them apart again?
Buy it here :
My thanks to the author for sharing her books with me.