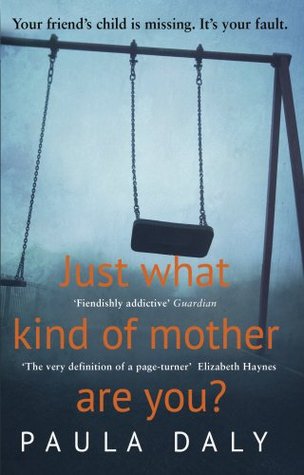 Random House UK
Transworld
2014


Your friend's child is missing. It's your fault
Every parent's nightmare is being responsible for someone else's child when something happens to that child. For Lisa Kallisto, a harassed mother of three, her worst nightmare comes true when she forgets that her friend's daughter, Lucinda, should have been spending the night at a sleepover at her house. When Lucinda goes missing, Lisa is overwhelmed not just by her failure as a responsible adult but also with the devastation of witnessing the deep grief of Lucinda's parents as they struggle to cope with the stressful situation of the disappearance of their beloved daughter.
The real strength of the book lies in the beautiful depiction of life going about its daily business. Lisa Kallisto is typical of so many mothers, juggling a demanding full time job and struggling with the daily pressures of child care and limited income. Lucinda's parents, Kate and Guy, are more affluent but with no less pressure of keeping up appearances. Juxtaposed between these two suffering families, is the added interest of DC Joanne Aspinall, she's the detective charged with looking into Lucinda's disappearance and interestingly, she comes across as a blunt straight talking Northerner, a sensible detective with no airs or graces and yet who doesn't suffer fools. She possesses that still small voice of calm in an otherwise crazy situation.
This chilling and utterly compelling story is one of those books which grabs your attention from the very beginning and after the first few pages I got a feeling that I was reading something rather special. That old cliché of a book being 'unputdownable' really does apply to this story. I became engrossed in lives that were so realistic that these really could be people you meet on the street going about their daily lives. The small Cumbrian town of Windermere and surrounding area is as much a character in the novel as the people and the sense of foreboding amongst the nooks and crannies of a small community is expertly controlled.
I am in awe of Paula Daly's ability to control a narrative to such an extent that it feels less like reading a novel and more like having a chat over a coffee with your best friend. The writing just flows like smooth cream, never faltering, no unnecessary banter, just really good dialogue, great light and shade and perfect characterisation. Even now, after finishing this book, I still really care about the people and hope they are doing alright.
There is no doubt that this is a stunning debut novel and I know that I have just read one of my books of the year.
My Thanks to NetGalley and Random House UK, Transworld for my copy of this book
***
Paula Daly was born in Lancashire. Before beginning her first novel JUST WHAT KIND OF MOTHER ARE YOU? she was a self-employed physiotherapist. She lives in the Lake District with her husband, three children and whippet Skippy.