I am delighted to welcome to the blog
Author of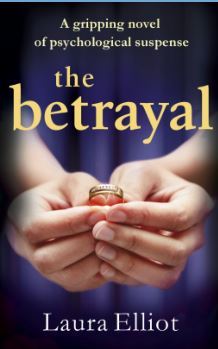 Bookouture
August 2015
Hi Laura ~ welcome to Jaffareadstoo and thank you for taking the time to answer our questions :
I began the story some years ago when Ireland was undergoing a massive property collapse. I read a feature in the papers about couples whose marriages had ended but were unable to sell their house and buy two separate places. Their solution was to divide their house into two apartments and live apart from each other. I kept imagining what it must be like to be separated – yet together – all the tensions and complications that would arise.
Tell us more about the novel's background.
It began life as a rom-com about the couple, Nadine and Jake and their family. Then, one morning, the character Karin entered the story. Suddenly the direction began to change and become edgier. While I was trying to decide whether to keep her - or banish her into the wilderness - I had to go into hospital for surgery on my back. When I was in the post-operative stage, high as a kite on morphine, she started talking to me. It was sheer stream of consciousness – unlike the struggle I'd been having with her on the page. That experience placed her firmly into the narrative, created my ending – and turned The Betrayal into a psychological thriller.
What was the most difficult aspect of the writing the story? How did you overcome it?
Changing the direction halfway through. I had to abandon a huge amount of material I'd written about Jake and Nadine's family – and change the structure. I hated getting rid of scenes I'd enjoyed writing – and which I knew were good - but that's where the discipline of being a writer comes into play.
Whilst you are writing you must live with your characters. How do you feel about them when the book is finished? Are they what you expected them to be?
When I first begin to develop my characters they are flimsy, ghostly. Everything they say seems clichéd, as are their actions. Then they start developing personalities, flesh and muscle. I try to see into their minds, feel their emotions, keep them from doing things that are out of character. And, yes, by the time I finish with them, they are what I'd hoped. I'm half in love with them – but also very glad to shake them free from my imagination.
What do you enjoy most about writing stories and do you write for yourself, or other people?
What I most enjoy is the challenge of exploring experiences I'm never likely to have – hopefully. I write for myself – but it's difficult not to be influenced by other people's opinions. I work my way through those feelings and pay no attention to trends. The first book I wrote was for children – a fantasy story about an imaginary land, magic and realism combined. I was told there was no market for fantasy and it would never sell. It did sell but that attitude still persisted until Harry Potter entered the fray and proved the opposite.
How do you manage to balance writing with your everyday life and what do you do to relax?
I begin work early in the morning and work until about four. That's about as much as I can do without turning into a zombie. I live beside the sea – and the estuary that features in
The Betrayal
– so lots of walking to unwind – or to inspire. I love reading, music, theatre, film, do some yoga – and quite enjoy a visit to my local pub.
Visit Laura on her
website
Find her on
Facebook
Follow her on Twitter @Elliot_Laura
Amazon UK
My review of The Betrayal can be found
here
Huge thanks to Laura for sharing her thoughts so eloquently and to Kim at Bookouture for her help with this interview.
Laura's books can be found on
~***~