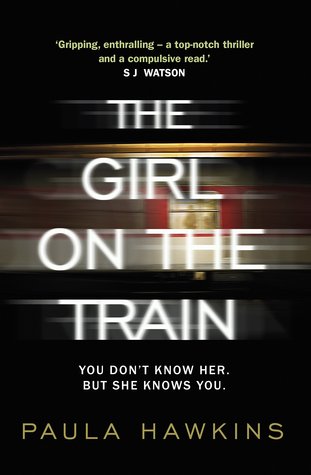 Transworld
15th January 2015



If you've ever sat in a train and watched as the lives of others pass by in a blur or when the train has slowed down to a crawl maybe you've stared into kitchens and dining rooms and seen people quietly going about their daily business, it's a bit of fun to wonder what their lives are like, but in reality we take it no further. In this psychological suspense story, Rachel fantasises about the lives of a couple she sees every day on her daily commute to London. Jess and Jason, as she thinks of them, are everything Rachel is not and therein lies the temptation for Rachel to construct a life for them which has no correlation with real life, the problem starts to take over when the blurred edges of fantasy encroach on reality.
There's been much hype around the publication of this debut psychological suspense story and I was thrilled when I received my review copy. It was with great excitement on a cold and wet afternoon that I stepped onto the train with the girl and started to read; but by about a third of the way into the story I was becoming increasingly disappointed. I kept reminding myself that any time soon I was going to start to enjoy the book, after all, everyone else seemed to have enthused about it, so why was I not connecting with the story more?
I can't say that it's because the book is badly written, it's not, it's good and clever and oh, so sharp in places that you can't help but be drawn into the whole sorry turn of events. But then, I realised, it was the three main female characters I didn't like very much. I found them rather clichéd; the psychologically damaged and alcoholic ex-wife, the suspicious new wife and the troubled wild child, all jostled for my attention but none of them made inroads into my heart and therein was the crux of the problem. None of them made me care enough, and I think that's why the book didn't quite work for me. I suppose one could argue that the whole premise of the story is not reliant on the characters being likeable, after all it's a psychological suspense story involving characters who are all supremely flawed individuals, but it would have meant a great deal more to me, as a reader, to be able to connect and even sympathise with them at some sort of basic level.
In a way it was a relief when the final dénouement arrived and confirmed my suspicions of whodunnit, and even that didn't come as a huge surprise; there had been more than enough hints. Sadly, I was just thankful that the journey was over and I could now step away from the girl on the train with almost a sense of relief.
....And yet, all is not entirely lost, there's a lingering whisper at the back of my mind that if ever I'm caught day dreaming on a train journey, I might just start to wonder what's going on behind the slatted blinds of suburban England.
The more I read, the more I realise, that every reader is unique, just as every writer is unique and not all of us will like the same story and will have a myriad reasons for not doing so.
~***~
My thanks to Random House UK ,Transworld Publishers and NetGalley for my ecopy of this book.