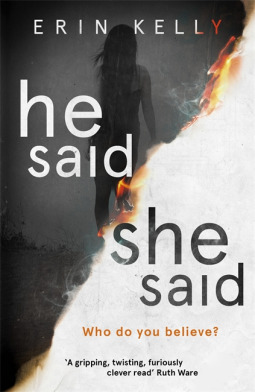 Hodder & Stoughton
20 April 2017
What's it all about ..
In the hushed aftermath of a total eclipse, Laura witnesses a brutal attack.
She and her boyfriend Kit call the police, and in that moment, four lives change forever.
Fifteen years on, Laura and Kit live in fear.
What did I think about it..
None of us really know what we would do if we witnessed a seemingly despicable act of sexual violence. Would we walk away or would we do what Laura did and challenge the perpetrator, comfort the victim and then report the incident to the police? Either way, whatever your actions, the consequences would live with you for the rest of your life and that's just what happens to Laura and her boyfriend, Kit who are in Cornwall to witness the total eclipse in August, 1999. What they see there will shape their lives, and that of Beth and Jamie's lives forever.
The story is told in current time and also in flashbacks which take us back to that fateful summer of 1999, and also to what happened in the fifteen years afterwards. In many ways it's a salutary warning of being careful of what you get involved in and of the consequences of misguided actions which could, inadvertently, reverberate down through the years.
It's rather a slow burner of a story which has, at its heart, a whole series of secrets and lies which threaten the safety and well being of everyone who is involved. There are some strong moments of dialogue, particularly in the trial scenes which show just how easy it is to be bamboozled by clever law teams, who, it must be said, simply want to win a case.
I found the whole concept of centering the story around the five descriptive phases of an eclipse and juxtaposing them within the context of the story to be really clever and even though the subject matter is emotive, I never felt like the information or the consequent actions of the characters wouldn't have happened in real life.
The author has done a commendable job of talking about a really difficult subject in a way that doesn't sensationalise what happened but which, realistically, shows just how lives can change in a heartbeat.
Best Read With..A wheatbran muffin and a decaff latte...
Erin Kelly is the author of The Poison Tree, The Sick Rose, The Burning Air,T he Ties That Bind and Broadchurch:The Novel inspired by the mega-hit TV series. The Poison tree was a Richard and Judy summer read in 2011 and became a major ITV dram in 2013.
Twitter @mserinkelly
**He Said/She Said will be published 20 April by Hodder & Stoughton**
Follow on Twitter #HeSaidSheSaid
My thanks to Louise at Hodder for my review copy of He Said She Said
~***~