Harper
July 2015
Jo Taylor, and her husband David, appear, on the surface, to have a good marriage. Like all couples they squabble and bicker, but their latest silly argument about giving David a lift to the train station was particularly uncomfortable. When David leaves the house early the next morning, Jo pretends to be asleep. Later that same evening when David fails to return home, Jo, and the rest of the family, including the police, feel that David has abandoned her. Pregnant and alone, Jo has some tough decisions to make and a difficult journey to travel before the truth about David's sudden disappearance is revealed.
I think what comes across so strongly in the story is of the unpredictability of life, and that however well we think we know someone, there is always a little part of ourselves that remains entirely secret. Jo experiences all sorts of feelings, understandable anger at her husband's callous treatment, sadness that she has been left alone to cope with pregnancy and impending motherhood, and huge financial worries as she struggles to cope alone. All combine to make a really interesting story, and one that for me, became a real page turner. I wanted to see how the story developed, speculated about what had happened to David and empathised with Jo as she struggled to make sense of everything.
This is now the second story by Amanda Brooke that I have read and as with her previous book,
Where I Found You
, I was struck by her easy style of writing, and the effortless way she draws the reader into the story. There is a realism to her characters which resonates, and in this story, Jo's constant battle against anxiety and panic is done in such a realistic way that you can't help but become emotionally involved in her desperate search for the truth. I read the book easily over a couple of sittings, it's one of those stories that tugs away at you so that you don't want to stop reading until the story is complete. The ending is cleverly achieved and took me by surprise, as I had anticipated a very different outcome.
Amanda's debut novel
Yesterday's Sun
was chosen as a Richard & Judy Book in 2012. And I am pleased to learn that the author has a new novel, expected in 2016.
About the Author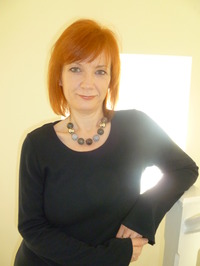 Follow on her
website
On Twitter @AmandaBrookeAB
My thanks to Jaime at Harper for my copy of this book.
~***~