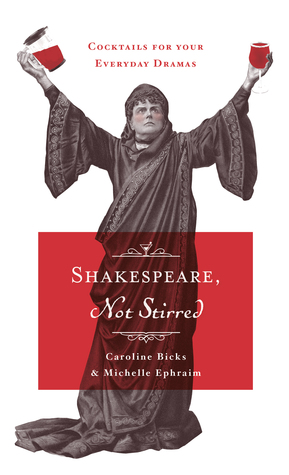 Scribe UK
October 2015
Written by two academics, Shakespeare, Not Stirred is a fun and rather intoxicating glimpse into the work of Shakespeare that is refreshingly different. It's crammed full of recipes for cocktails and canapes which connect Shakespeare characters in an unusual and highly entertaining way and yet, even though the content is lighthearted, there are wonderfully short 'mini bard' sections which put the whole Shakespearean thing into delicious context.
I'm not a Shakespeare expert, having retained only a smattering of knowledge of those books I studied, often with little enthusiasm, whilst at school. My abiding memory is of reading Merchant of Venice in class, with a friend in fits of hysterical laughter, because she had to say out loud 'brassy bosoms and rough hearts of flint' (Act 4 : Scene 1), and believe me, in an all girl's grammar school that phrase was considered the height of salaciousness. Perhaps, if we had imbibed Shylock's Ducats ( pg7), a drink made with Goldschlager liquer, before our appalling rendition of the Bard's finest, we would have made a better go of it.
Shakespeare, Not Stirred is a very witty look at the work of our finest playwright, and whilst it's really tempting to try every one of the cleverly put together recipes, it's probably not a good idea to try them all at once, as some of the cocktails are decidedly heavy on the alcohol.
Opening this book, at any page, made me smile, it made me laugh out loud and it made me, in some perverse way, really proud of our British sense of humour, that can find fun and frivolity in the most unlikely of circumstances.
It's a perfect book to pop into a Christmas Stocking and I guarantee that before Christmas Day is out, there will be a rummage in the drinks cupboard for that dusty bottle of Blue Curacao to make the Drowning Ophelia (pg98)..
Best read with a shot glass of The Forest Flyer (pg36) ....and a plate of Oberon's Spicy Fairy Wings with a Blue Cheese Dip of Domination (pg65)..
How to make a Drowning Ophelia
Cheers !
My thanks to Molly at Scribe for my copy of this delightful book.
~***~