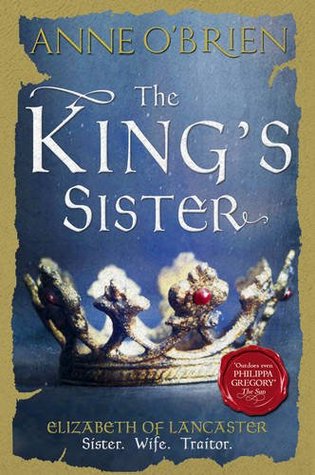 Mira Books
November 2014
I was delighted to be asked to guest review
for my friend Anne
at her wonderful book blog
Sister. Wife. Traitor.

She holds the fate of England in her hands.
Elizabeth of Lancaster is the formidable daughter of John of Gaunt, and as such inherits the pride and arrogance of the great Plantagenet dynasty. Rejecting a marriage to John Hastings, the juvenile Earl of Pembroke, Elizabeth flouts convention to marry the ruthlessly ambitious, Sir John Holland, Duke of Exeter, who is half brother to the King Richard II. The marriage is passionate, volatile and not without danger. However, disobedience comes at a price, and the rebellious nature of Elizabeth's husband ensures that the marriage is both dynastically and emotionally flawed from the very start. Being close to the crown is to play with fire and as the brothers, sisters and cousins in this deadly game of thrones continue to play out their petty dynastic dramas, Elizabeth of Lancaster must act as a political shield, in order to keep both her husband and brother from committing the ultimate betrayal.
In history books, Elizabeth of Lancaster, is portrayed as a shadowy figure caught on the periphery of royalty, but her Plantagenet connections to both King Richard II and King Henry IV ensured her a prominent role in the history of England, and it is commendable that her story is told by an author who handles both her character, and the time in which she lived, with remarkable sensitivity. There is danger and intrigue in abundance and yet the shadow of loss seems to follow Elizabeth around and I felt immense sympathy for her. I was less enamoured of her husband, who I felt let her down, but as is the way with historical fiction, nothing can be done about the eventual outcome.
There is no doubt that the author has captured this genre of historical romance, her books are delightfully readable, not just with a good dollop of romance to keep you entertained, but also with a wealth of factual detail which helps to connect the story accurately into time and place. Impeccably researched and with a fine eye for historical accuracy, the characters really come to life. As the drama of their complex lives start to unfold, it becomes obvious that life at the royal court, in the fourteenth century, was fraught with the threats and menace of a dark and dangerous time. The consequences of this deadly manoeuvring for supremacy would, of course, tear the Plantagenet family apart for generations.
Anne was born in the West Riding of Yorkshire. After gaining a B.A. Honours degree in History at Manchester University anda Masters degree in education at Hull, she lived in the East Riding as a teacher of history. Always a prolific reader, she enjoyed historical fiction and was encouraged to try her hand at writing. Success in short story competitions spurred her on.
Leaving teaching - but not her love of history - she wrote her first historical romance, a Regency, which was published in 2005. To date nine historical romances and a novella, ranging from medieval, through the Civil War and Restoration and back to Regency, have been published internationally.
Anne now lives with her husband in an eighteenth century timber-framed cottage in the depths of the Welsh Marches in Herefordshire, a wild, beautiful place on the borders between England and Wales, renowned for its black and white timbered houses, ruined castles and priories and magnificent churches. Steeped in history, famous people and bloody deeds as well as ghosts and folk lore, it has given her inspiration for her writing. Since living there she has become hooked on medieval history.