Wishing you a Merry Christmas
Anne O'Brien
What's your earliest Christmas Memory?
A 'fairy frock' with net skirts, complete with satin slippers and a wand with a star. I was a plump three or four year old. What did I look like? All I remember was being speechless with joy.
Do you have any special Christmas Traditions?
Not really, apart from the mince pies and port. (I don't eat/drink them at any other time of the year.)
What's your favourite festive carol or song?
In the Bleak Mid Winter. I have loved it as long as I can remember. I find both words and tune very moving.
Do you have a favourite festive film?
No. But there is one 'Christmassy' film I can't watch and that's The Wizard of Oz that's always on the TV at this time of year. As a child I was terrified by the munchkins and the witch. I still find them strangely unnerving, even after all these years.
What's your favourite festive read ?
It has to be A Christmas Carol. I'm not a huge fan of Dickens' quirky characters, but this is so much in the spirit of Christmas that I find myself re-reading it.
Are you organised or do you leave everything until the last minute ?
Organised! I am a maker of lists. But I always seem to be in a final rush when the big day's looming.
Christmas Tree – real or artificial?
Real. Brought in from the garden where it manages to survive from year to year. It's a strange shape, and has been pruned many times, but it's our own and I resist buying a perfect one.
Definitely glitter.
Gingerbread Latte or Orange spiced Hot Chocolate?
The orange and chocolate combination. Irresistible. Reminds me of Terry's Chocolate Oranges with the segments - always part of Christmas.
Mince Pie. I've already managed to eat quite a few.
Christmas Dinner – Traditional Turkey or something Different?
I'm a veggie so I have to be imaginative. This year it will be an open tart with leeks, mushrooms, cranberries and gruyere cheese. It's an old favourite and always popular. I've even seen the turkey-eaters sneak a piece ...
Christmas Tipple – Bucks Fizz/Mulled Wine or something stronger?
Damson Gin, (home made from our damsons) and tonic. Looks pretty and festive (pink with bubbles) but packs a punch. (Care needed!)
A fun game of after dinner charades or more chocolates and the television?
Chocolates and TV. I'm stunningly bad at charades. And I might even resort to another glass of the Damson Gin ...
Anne is the best selling author of several historical novels
Her books are available to buy on
Amazon
and from all good book retailers.
Anne is offering a signed copy of her latest novel The King's Sister to one winner of this giveaway.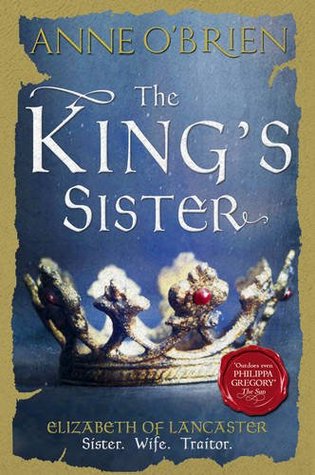 Huge thanks to Anne for sharing her Christmas with us.
Jaffa and I wish you a very happy Christmas.
****