Book One



Matador
2015
A bit of blurb..
Adam de Guirande owes his lord, Roger Mortimer, much more than loyalty. He owes Lord Roger for his life and all his worldly goods, he owes him for his beautiful wife – even if Kit is not quite the woman Lord Roger thinks she is. So when Lord Roger rises in rebellion against the king, Adam has no choice but to ride with him – no matter what the ultimate cost may be.


My thoughts about the book..
1321 was a momentous year, not just for the king, Edward II, but also for those families who were caught up in the deadly baronial revolt and political ramifications of the Despenser War. The barons, led by Roger Mortimer and Thomas of Lancaster realised that the country, led by a weak and indecisive king, was on the brink of disaster, and that Hugh Despenser, the king's current favourite, wielded more power than was politically advisable. However insurgence, comes at a price and for Mortimer's man, Adam de Guirande, being involved in such a volatile rebellion places both himself and his family at great risk.
The story opens with an abduction and an arranged marriage between two people who would rather not enter into the bonds of matrimony. Not only is it a deception on a great scale, as the bride, Kit de Courcy, is not who she claims to be, but also the bridegroom has heard disturbing things about his intended bride's reputation. All does not bode well for Adam de Guirande and his new wife, and when the country is swept into turmoil, Adam has no choice but to follow where his master, Roger Mortimer dictates. What Adam hadn't bargained for was his burgeoning romantic feelings towards, Kit, his beautiful, and passionate, new wife.


What then follows is a well written story which combines authentic historical fact with a rollicking good adventure. The complicated and irrational history of the time is well
explained and the author does a good job of explaining the complicated political ramifications whilst at the same time allowing the romantic element, between Guy and Kit, to develop. The story is rather dark in places, which is entirely in keeping with the nature of the story, and the author does a credible job of bringing to life those characters who are less likeable, especially her depiction of Hugh Despenser who demonstrates, by his actions, just why he is known as the 14th century's 'worst Brito
n'
If you like well written medieval adventure which is both action packed and authentic, and which has more than a hint of passionate romance, then I highly recommend In the Shadow of the Storm as a wonderful way to start a new historical series.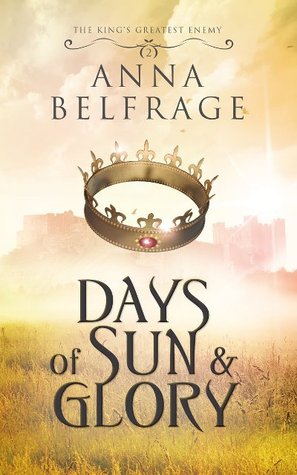 A bit of blurb..
Adam de Guirande has barely survived the aftermath of Roger Mortimer's rebellion in 1321. When Mortimer manages to escape the Tower and flee to France, anyone who has ever served Mortimer becomes a potential traitor – at least in the eyes of King Edward II and his royal chancellor, Hugh Despenser. Adam must conduct a careful balancing act to keep himself and his family alive.
My thoughts about the book..
Those who have read book #1 in The King's Greatest Enemy series will be aware of what happened in that first book and of how the story ended, so I'm not going to repeat what has already has gone before except to say that if you haven't read book one , then stop here and make amends.
What I enjoyed about this second book was the way that the continuation of the story followed seamlessly so that there was no confusion of where you are in the events of the time. We meet up again, very quickly, with Adam and Kit and follow their developing involvement with Queen Isabella and the young Prince Edward. England remains in turmoil and following the rebellion, Roger Mortimer is now exiled in France, but if you know your medieval history you will be aware that Mortimer is not a man to stay away from danger and in continuing to plot and scheme, he once again involves Adam and Kit in this most deadly game of thrones.

In this second book, Adam and Kit are maybe, due to past events, a little wiser but they are no less passionately in love with each other and although their future is as ever uncertain, they conduct themselves with great fortitude. I think if anything this book is stronger than the first. Some of the characters are no less repugnant particularly Despenser, whose own particular brand of political skulduggery continues with vile precision, and his despicable involvement at Edward's court forces the country into a very bleak place.
Revenge, retribution, political dishonesty and vengeance are all themes which run throughout the novel but there is also a very fine mix of loyalty, allegiance and love, which ultimately, for me, gave the book its heart and soul.
Book three is the series Under the Approaching Dark is due to be published in 2017. I can't wait !!
Best Read with ...platters of smoked herring and flagons of rich red wine...


About the Author
You can read an interview with the author by
clicking here
Find the author on her website by
clicking here
Follow on Twitter@Anna_Belfrage
Find the books on
Amazon
My thanks to the author for sharing her books with me.
~***~