On Hist fic Saturday
Let's go back to ...the age of the Vikings
Headline Review
5 March 2020

My thanks to the publishers for my copy of this book
Their love was forbidden. But echoed in eternity.
When Mia inherits her beloved grandmother's summer cottage, Birch Thorpe, in Sweden, she faces a dilemma. Her fiance Charles urges her to sell and buy a swanky London home, but Mia cannot let it go easily. The request to carry out an archaeological dig for more Viking artefacts like the gold ring Mia's grandmother also left her, offers her a reprieve from a decision - and from Charles.
Whilst Mia becomes absorbed in the dig's discoveries, she finds herself drawn to archaeologist Haakon Berger. Like her, he can sense the past inhabitants whose lives are becoming more vivid every day. Trying to resist the growing attraction between them, Mia and Haakon begin to piece together the story of a Welsh noblewoman, Ceri, and the mysterious Viking, known as the 'White Hawk', who stole her away from her people in 869 AD.
As the present begins to echo the past, and enemies threaten Birch Thorpe's inhabitants, they will all have to fight to protect what has become most precious to each of them.
What did I think about it..

This dual time historical romance flits effortlessly between Mia in the here and now, and Ceridwen in 869 AD, both woman have their share of troubles, and they each must overcome difficulties before they can find true happiness.

We meet Mia in the present day as she helps out with an archaeological dig at Birch Thorpe, her newly inherited cottage in Sweden. Mia's work as a Viking specialist for the British Museum sees her well qualified to help with identifying any discoveries, however, her testy relationship with the lead archaeologist, Haakon Berger, makes for interesting reading. Gradually, as Haakon and Mia start to learn more about the Viking inhabitants who lived at this spot in the 9th Century, so the story of Ceridwen, a welsh noblewoman, and a mysterious Viking known as White Hawk starts to be revealed.

Echoes of the Runes is such a captivating story with both time frames having much appeal. I found that as one chapter ended I was eager to either return to the past, or to the future, and found much to enjoy in getting to know the modern day inhabitants of Birch Thorpe alongside those historical figures who felt so vibrant in the page. The author writes really well and brings her characters to life in such a believable way that I felt like I was part of the story, sitting comfortably in the Viking hall with the aroma of roasting meat, and the tang of wood smoke swirling in the air, and yet, I was also equally comfortable in the here and now, uncovering intriguing Viking artifacts that spoke of a troubled and intriguing past.

Beautifully written and well researched, Echoes of the Runes took me by the hand and led me into a time of danger, passion, and ultimately...love ♡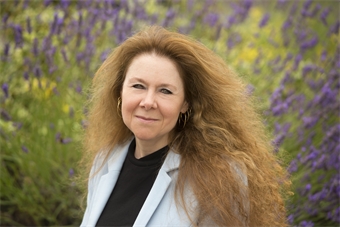 Christina Courtenay is an award-winning author of historical romance and time slip (dual time) stories. She started writing so that she could be a stay-at-home mum to her two daughters, but didn't get published until daughter number one left home aged twenty-one, so that didn't quite go to plan! Since then, however, she's made up for it by having eleven novels published and winning the RNA's Romantic Novel of the Year Award for Best Historical Romantic Novel twice with Highland Storms (2012) and The Gilded Fan (2014), both published by Choc Lit. Christina is half Swedish and grew up in that country. She has also lived in Japan and Switzerland, but is now based in Herefordshire, close to the Welsh border. She's a keen amateur genealogist and loves history and archaeology (the armchair variety)
.
Twitter
@PiaCCourtney #EchoesoftheRunes
@HeadlineFiction @headlinepg