Jaffareadstoo is thrilled to be hosting today's stop on the In the Dark Blog Tour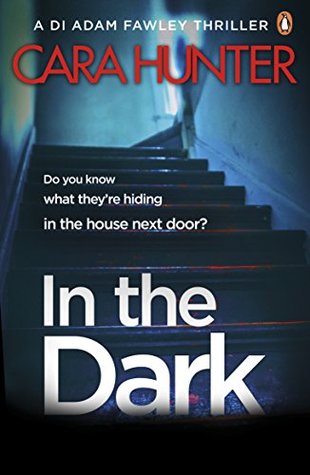 Penguin
12 July 2018

My thanks to the publisher for my copy of the book and the invitation to be part of this blog tour
What's it all about...
A woman and child are found locked in a basement room, barely alive. No one knows who they are – the woman can't speak, and there are no missing persons reports that match their profile. The elderly man who owns the house claims he has never seen them before. The inhabitants of the quiet Oxford street are in shock. How could this happen right under their noses?
But DI Adam Fawley knows that nothing is impossible. And that no one is as innocent as they seem...
What did I think about it ...
This talented author first came to my attention when I was introduced to DI Adam Fawley in
Close to Home
which is the first book in this crime thriller series, and what a roller coaster of a ride that turned out to be. So my expectations in this, the second book, were naturally high, and I'm delighted to say that once again the author has given us a lively, and it must be said, rather dark glimpse into what's been going on behind the closed doors of genteel, Oxford.
In the Dark reintroduces us the investigative team, led by DI Adam Fawley, and once again they have their work cut out in trying to discover the perpetrator of an absolutely heinous crime. The reasons why a young woman and a child were imprisoned in the damp cellar of a house in Frampton Road, Oxford, gets the enquiry off to an absolutely cracking start, and as the investigation gets under way so the net starts to pull ever tighter.

As fast action crime thrillers go, In the Dark is up there with the best of the genre, taut, tight and tense from the start there is never a moment when the story doesn't grab your attention and to be honest, the attention grabbing starts as early as page one and doesn't let go until all the many twists and turns in the plot have been unraveled.


In the Dark is best read as part of the DI Adam Fawley crime thriller series so as to better understand the interplay between the detectives who make up this fine investigative team, but it's also easily enjoyable as a standalone read.
Cara Hunter is a writer who lives in Oxford, in a street not unlike those featured in her series of crime books. Her first book, Close to Home, was picked for the Richard and Judy Book Club and this is her second featuring DI Adam Fawley and his team of detectives.
Twitter @CaraHunterBooks #InTheDark
@PenguinBooksUK