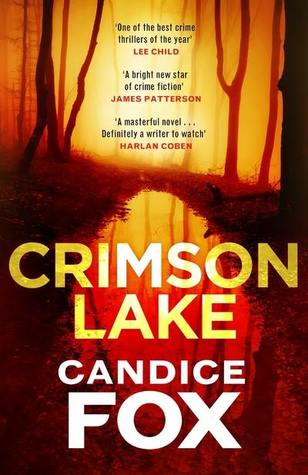 Arrow
May 2017
What's it all about...
12.46: 13-year-old Claire Bingley stands alone at a bus stop
12.47: Ted Conkaffey parks his car beside her
12.52: The girl is missing . . .Six minutes - that's all it took to ruin Detective Ted Conkaffey's life. Accused but not convicted of Claire's abduction, he escapes north, to the steamy, croc-infested wetlands of Crimson Lake.


What did I think about it..
Detective Ted Conkaffey's life is turned upside down after being accused, but not convicted, of the abduction of thirteen year old Claire Bingley. With both his personal and professional life in turmoil Ted escapes to Cairns and to the remote wetlands and crocodile infested waters of Crimson Lake. Burdened by a life that is altered beyond recognition, Ted finds that the gloom of his surroundings matches his mood, and his taciturn demeanour does not win him friends or supporters very easily.
However, a chance meeting with private detective, Amanda Pharrell, another social misfit whose life is complicated by her own brand of demons, encourages Ted to become involved in the disappearance of local author, Jake Scully. What then follows is a tense and tightly packed thriller which uses the bleakness of its location to highlight the covert nature of a complicated investigation, and also emphasises the mistrustful way in which the local community perceive these two social misfits.
I really enjoyed this author's style of writing. The story was consistent and the plot never faltered and I soon became immersed in the unfolding narrative. I enjoyed observing the volatile dynamics between Ted and Amanda, and became curious to see how their unorthodox relationship would survive within the wider framework of the story.
I hope that Crimson Lake is the start of a new detective series as I would like to see Conkaffey and Pharrell return in a future investigation.
Best read with
...copious glasses of smoky Bourbon..
About the Author
Candice Fox is an award-winning author and commercial success in her native Australia. Her first novel,
Hades
, won the 2014 Ned Kelly Award for best debut crime novel, with the sequel,
Eden
, winning the 2015 Ned Kelly Award for best crime novel. Candice is also the author of the critically acclaimed
Fall,
and co-writer of the James Patterson blockbuster
Never Never
.
Website
Twitter @candicefoxbooks
Crimson Lake was published on the 6th April 2017
An Arrow Paperback Original & eBook, £6.99
My thanks to Gemma at Penguin Random House for my review copy of Crimson Lake.
~***~