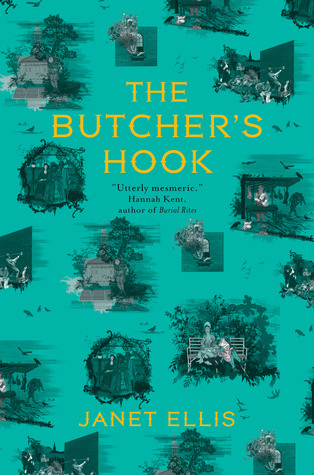 Two Roads
February 2016
When I was offered the chance to read The Butcher's Hook, the debut historical novel by Janet Ellis, I jumped at the chance, as it sounded just the sort of book I enjoy reading, and I'm pleased to say that I wasn't disappointed.
The story opens with the introduction to the cloistered life of Anne Jaccob, who, it must be said, is a rather unusual young woman. The home Anne shares with her mother and father is a sad place, wreathed in gloomy shadows and in fractured, almost pointless relationships. In the summer of 1763, while the house readies itself for the birth of another baby, Anne tiptoes around content to leave the matter of birthing to her mother, and yet, this latest birth hangs heavy with Anne, as she is determined not to get too close to another baby, only to grieve its loss when fate intervenes.
With her mother incapacitated following the birth, Anne takes it upon herself to learn more about household management in the hope of striking up a friendship with Fub, the enigmatic butcher's boy, with whom she hopes to start a romantic affair. However, Anne's father has already picked out a suitable match for his daughter, the odiously named Simeon Onions, but unfortunately, this loathsome suitor, is not a man to make Anne's heart flutter with sensual excitement. With a determined candour, Anne sets out to thwart her father's plans, and with an unease I found quite unsettling, she becomes quite a chilling character, not terribly likeable but always fascinating in her desire to do things 'her way'.
There is no doubt that in the hands of this talented author, Georgian London comes gloriously alive; the fractured underbelly of the lower classes teem with darkness and as this sinister edge starts to infiltrate, before you know it, you are completely under its spell. The story has an edginess which is quite disturbing and, it must be said, not what I was expecting from this lovely, smiley author.
As a debut novel's go this is up there with the best of them and I am interested to see where Janet Ellis goes from here, as she has certainly set the bar high with The Butcher's Hook.
Best read with…. thick slices of rare, roast beef and a glass of good red wine...
About the Author
Janet Ellis trained as an actress at the Central School of Speech and Drama. She is best known for presenting Blue Peter and contributes to numerous radio and TV programmes.
She recently graduated from the Curtis Brown creative writing school. The Butcher's Hook is her first novel.
Follow on Twitter @missjanetellis
#TheButchersHook
My thanks to Two Roads and Bookbridgr for my review copy of The Butcher's Hook
~***~