Jaffareadstoo is delighted to be hosting a stop on the
Girl Waits With Gun Blog Tour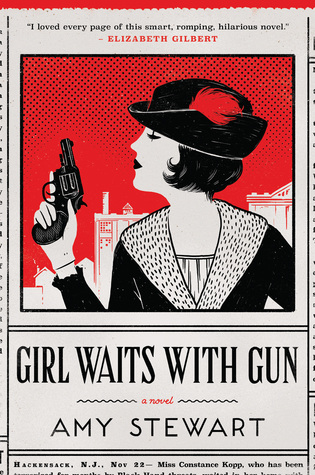 Scribe Publications
Published on the 10th March 2016
Kopp Sisters #1
From New York Times best-selling, Amy Stewart, comes an enthralling novel based on the forgotten, true story of one of the US's first female deputy sheriffs.
Constance Kopp doesn't quite fit the mould. She towers over most men, has no interest in marriage, and has been isolated from the world since a family secret sent her and her sisters from the city to the country fifteen years before. When a powerful, ruthless factory owner runs down their buggy, a dispute over damages turns into a war of bricks, bullets, and threats as he unleashes his gang on their farm. The sheriff enlists her help, and it turns out that Constance has a knack for outwitting (and disarming) the criminal element, which might just take her back out into the world and onto a new path in life.
Through Amy Stewart's exuberant storytelling, Constance Kopp catapults from a forgotten historical anecdote to an unforgettable historical-fiction heroine — an outsized woman not only ahead of her time, but sometimes even ahead of ours.
My thoughts about Girl Waits With Gun...
When Henry Kaufman's black motor car hurtles towards them at speed, the Kopp sisters, Constance, Norma and Fleurette travelling in their horse drawn buggy stand no chance against a powerful automobile. Hurt and disheveled the girls try to salvage what they can but their buggy is irreparably damaged. Trying to get the $50 cost of repairs from local silk dye manufacturer Henry Kaufman is riddled with difficulties and even though Constance, as the eldest sister tries her best to get recompense, she discovers that coming up against Henry Kaufman is a really dangerous thing to do.
What then follows is the story of how Henry and his gang of Black Handers systematically set out to terrorise the sisters, making vile threats and methodically undermining everything the sisters hold to be true. Their lives made utterly wretched, Constance turns to the local sheriff for help, who tries his best to get justice for this family of intrepid females.
Set in New York and New Jersey in 1914 and based on historical fact, using real letters and newspaper articles, the author has woven a story which looks at the truth behind the newspaper headline "Girl Waits with Gun" and adds fictional substance to the fascinating story of how Constance Kopp became one of the US's first female deputy sheriffs. I found all the Kopp sisters to be a fascinating blend of bluff common sense and quirky behaviour. I especially liked Norma's fascination with carrier pigeons and Fleurette's skill with a sewing machine but it is Constance who holds the story together, and reading about her exploits as she takes on the challenge of dealing with the despicable Henry Kaufman makes for fascinating reading.
The story is compelling and entertaining in equal measure and I look forward to reading more from this talented author.
Best Read with.
..
bowls of Norma's special Krautfleckerl and cups of thick, black coffee
Follow on Twitter @Amy_Stewart
My thanks to the author and Molly at Scribe Publications for my invitation to be part of this blog tour.


Do visit the other stops on the tour which runs from 7th - 18th March 2016
~***~