When Teuder Bonython becomes unable to run his beloved boat yard, his daughter Caseley takes on the daunting responsibility of keeping the business viable, but this is not an easy task for a young woman in Victorian England, and Caseley encounters many difficulties, which, at times, seem insurmountable. Her life becomes even more complicated when she meets, Jago Barata, the half Spanish captain of one of the Bonython ships, who's brashness and audacity both appeals and frightens Caseley. Unprepared for the effect that Jago will have on her life, Caseley is determined to succeed in a male dominated world, with, or without, Jago's interference.
I really enjoyed getting to know Caseley, whose determined personality confirms that she is no shrinking violet when it comes to business, but there was also a softer side to her personality, with an aching vulnerably, which, I thought, was nicely explored, and which became more evident in her dealings with Jago Barata. Jago is, from his detailed description, very easy on the eye, and I had no difficulty in being fascinated by him! He was a clever contradiction of being both fearless and tender at the same time.
The Consul's Daughter is a lovely story. I enjoyed both the romance and the history, and felt that time and place was captured perfectly. I really felt like I was in the boatyard with Caseley and Jago, watching the ships arrive and cargoes being unloaded, with the tang of sea salt and the kiss of sea spray in the air. The author's evident love of writing and her skill at story telling make the story both exciting, and realistic. The mystery at the heart of the novel has just the right amount of adventure to keep the story interesting and informative, and yet, it is in the relationship between Caseley and Jago where romance is allowed to take centre stage. I thought that there was a lovely blend of attraction and desire between Caseley and Jago, I enjoyed getting to know them as characters, and hoped that everything would turn out right for them.
The ending of the story lends itself nicely to a continuation of The Captain's Honour Series and I look forward to reading more in future novels.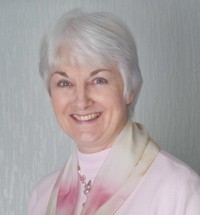 Follow Jane on Twitter @JJacksonAuthor
Find her on
Facebook
A professional writer for over 30 years, Jane Jackson has had 27 books published with world-wide sales topping ten million. Shortlisted twice for the Romantic Novel of the Year Award, she has also taught the craft of Novel Writing at every level from Writers' summer schools and Ad Ed to the MA in Professional Writing at University College Falmouth.
My thanks to the author for sharing her novel with me.
~***~