The second book in the new Bellatrix collection
A creatively curated list of empowering diverse YA novels by leading female voices
Hachette Children Books
19 September 2019

My thanks to the publishers for my copy of this book



On the eve of her divining, the day she'll discover her fate, seventeen-year-old Lil and her twin sister Kizzy are captured and enslaved by the cruel Boyar Valcar, taken far away from their beloved traveller community.
Forced to work in the harsh and unwelcoming castle kitchens, Lil is comforted when she meets Mira, a fellow slave who she feels drawn to in a way she doesn't understand. But she also learns about the Dragon, a mysterious and terrifying figure of myth and legend who takes girls as gifts.
They may not have had their divining day, but the girls will still discover their fate..


What did I think about it..

Stories about the brides of Dracula are not my usual genre but when approached to read and review this re-imagining of an old story by talented writer Kiran Millwood Hargrave, I was delighted to have the opportunity to read a version of a classic vampire story which is aimed at young adult readers.

Seventeen year old twins, Lil and Kizzy, are about to come of age and discover their fate in a divining ceremony but then something catastrophic happens to their settlement and the twins are abducted and taken by force as the captives of Boyar Valcar who rules his community with cruelty and oppression. Lil and Kizzy, in mourning for all they have lost, are sent to work in the castle kitchens, however, their beauty and feisty nature brings them both to the attention of Boyar Valcar with disastrous consequences.

The author writes well, with an understanding of her target audience, and with imaginative flair for detail, she brings the story to life in lively detail. I enjoyed following Lil and Kizzy's adventures, and particularly Lil's close relationship with Mira, who is a fellow captive, and which adds a very different dimension to the story.

The Deathless Girls brings a nice awareness of the legend to a younger audience and allows a more modern day feminist approach with feisty young women who know their own mind. This is now the second book in the Bellatrix series of YA novels which continues the theme of re-telling a classic in a more modern way.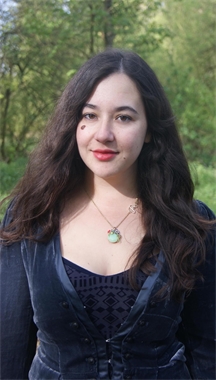 Kiran Millwood Hargrave is an award winning poet, playwright, and bestselling novelist. Her debut novel for children, The Girl of Ink & Stars won the Waterstones Book Prize and the children's Book of the Year at the British Book Awards. Her work has been long and short listed for several other major prizes, including costaAward and th CILIP Carnegie Award. The Deathless Girls is her first novel for Young Adults.
Kiran Millwood Hargrave is a graduate of Oxford and Cambridge Universities and lives by the river in Oxford with her husband and cat.


Twitter @Kiran_MH #TheDeathlessGirls

@hachettekids
About Bellatrix
The Bellatrix collection aims to publish gripping, powerful YA novels by leading female voices. In literature as in life women past and present have countless stories untold, mis-told or simply unheard. The Bellatrix series will range from gothic, to thriller, humour to romance. Each story will be unique re-telling of a classic, given a feminist slant, and connected by one main goal - the passion and determination to tell the whole story.