On Hist Fic Saturday


Let's go back to ...Victorian England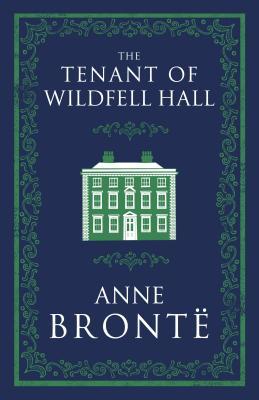 Alma Classics
Alma Books
November 2018

My thanks to the publishers for my copy of this edition of The Tenant of Wildfell Hall
Gilbert Markham is fascinated by Helen Graham, the beautiful and enigmatic woman who has recently moved into Wildfell Hall. He is swift to befriend her and steadfastly refutes the local gossip calling her character and behaviour into question, yet he soon has cause to regret his infatuation, and grave doubts and misgivings begin to arise in his mind. It is only when Helen presents Gilbert with her diary and instructs him to read it that the shocking truth about her past life becomes clear.
My thoughts..
The content of The Tenant of Wildfell Hall is, by the standard of its time, rather dark and shocking as it uncovers a web of deceit and wickedness which surely shocked the sensibilities of its first readers It's about a woman who is grievously wronged and who, despite her precarious position in Victorian society, strives to protect herself, and her child, from further harm.
Whilst there is no doubt that this story has all the strength and passion we associate with Anne Brontë it is not an easy read, firstly, it takes a while to become accustomed to Anne's writing style which is quite loquacious, and also the sheer scale of the novel takes a real investment of time. Realistically, I found that I could only read a chapter at a time, as the story is complex, and I needed to take time to absorb the meaning of this dark and quite gloomy Victorian Gothic.


The Tenant of Wildfell Hall
is the book I most associate with Anne Brontë, and although by 1846 she had contributed to a book of poems with her sisters, it was the acceptance of Charlotte's novel, Jane Eyre, which spurred Anne to publish her first novel, Agnes Grey in 1847, under the pseudonym, Acton Bell. However, whilst Agnes Grey did reasonably well, it was rather overlooked by the greater success of Emily's
Wuthering Heights
which was published at the same time. Undaunted by this Anne went on to publish
The Tenant of Wildfell Hall
in 1848 and it's shocking and controversial content made it a huge success, with the first published run of the book selling out in 6 weeks.
There remains something remarkably important about the Brontë novels as no matter when you read the stories written by Charlotte, Anne or Emily, there is always something to discover which reiterates the strength, not just of their style writing, but also of their unique and at times quite scathing observation of the role of women in Victorian society.
This edition of
The Tenant of Wildfell Hall
was published by
Alma Classics
in November 2018 and is a beautifully presented copy with a sumptuous new cover. The series of illustrations at the start of the book show portraits of Anne, her parents and her sisters, placing them nicely into context and the extra material about Anne's life is both fascinating and informative.
Anne Brontë was an English novelist and poet, the youngest member of the Brontë literary family. The daughter of Patrick Brontë, a poor Irish clergyman in the Church of England, Anne Brontë lived most of her life with her family at the parish of Haworth on the Yorkshire moors. She died, aged 29, from tuberculosis in 1849.
©Digital Images
@almabooks