And the 2014

Baileys Women's Prize for Fiction

Winner

is
Eimear McBride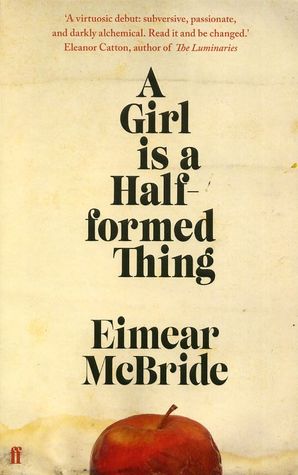 Faber and Faber
2014
A bit of blurb from Goodreads
Eimear McBride's debut tells, with astonishing insight and in brutal detail, the story of a young woman's relationship with her brother, and the long shadow cast by his childhood brain tumour. Not so much a stream of consciousness, as an unconscious railing against a life that makes little sense, and a shocking and intimate insight into the thoughts, feelings and chaotic sexuality of a vulnerable and isolated protagonist, to read A Girl Is A Half-Formed Thing is to plunge inside its narrator's head, experiencing her world first-hand. This isn't always comfortable - but it is always a revelation.
***
I'm not an avid literary prize reader and if I'm honest I was sort of hoping that The Undertaking by Audrey Magee would be the winner....so I have to hold my hands up and say that I had never considered reading this one until the winning announcement was made last night. It's probably going to sit on my 'to be read sometime' wishlist, .....perhaps it's one for the library loan list.
A Girl is a Half Formed Thing has received mixed reviews on the book sites I frequent - some reviewers saying it's the best book they've ever read, through to the more critical reviewers who say that at 205 pages it's more of a novella rather than a novel and that the style of writing takes a bit of getting used to...as always it's best to make up your own mind. Whatever you make of the book, winning such a prestigious literary prize is a great achievement and a huge boost for the author's work....so credit given where credit is due...
This is it's opening paragraph....
For you. You'll soon. You'll give her name. In the stitches of her skin she'll wear your say. Mammy me? Yes you. Bounce the bed. I'd say. I'd say that's what you did. Then lay you down. They cut you round. Wait and hour and day.
~*Well done to the other authors ~*
who made the 2014 short list
*~*~*