I am delighted to welcome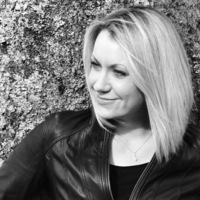 author of
.......In a land of fog and desperate tribes, Tristan fights to protect western Briton from Saxon invaders. In the wake of battle, he returns to Kernow bearing grave news, and the order of power shifts. As Tristan defends the west, his uncle, King Mark, faces enemies to the east beyond the sea: the Irish Bloodshields. Mark is determined to unite the tribes of Briton and Ireland and forge an alliance that would see an end to war and the beginnings of peace. Iseult, the daughter of Irish kings and a woman of the blood, resigns herself to her inevitable fate: marriage to Lord Morholt. A bloody duel changes her course, and she finds herself stranded on the coast of Kernow bringing with her the possibility of peace. But when she loses her heart to one man and marries another, her future and that of Briton flutters grey. Three people and a hope that will never fade, this is a story of promise; the legend of love.....
Why did you choose to retell the story of Tristan and Iseult?
I remember first reading about the love triangle in Bernard Cornwell's Arthurian trilogy, The Warlord Chronicles, and I was fascinating by the way he bent and changes and utilised the legends of both Arthur and Guinevere as well as Tristan and Isolde/Iseult into something different but in many way MORE believable than the myths. They kept cropping up, and when the Ridley Scott produced version hit the big screen a few years back, I was intrigued once more.
What was the writing process like?
I was enthusiastic to start with, then I became a little disillusioned and went back to writing my series based on the Warrior Queen Zenobia, the first of which will be released hopefully later this year. So I left Tristan and Iseult for about a year. When I went back to it at the start of 2013, I still loved it, I still felt a huge attachment to the narrative and the story and the characters, and when I murmured to one Ms Gillian Hamer and Jill Marsh that I was finishing it, they asked (or more truthfully told me) me to publish in June with
Triskele Books
. That gave me a huge incentive, and I finished a half written manuscript within weeks. Deadlines really work for me.
I also felt hugely privileged to have brought to life once more a classic legend.
What makes you want to write historical fiction?
Everything about it. The costumes, the language, the romance of anything period. I watch every historical drama going. I'm rubbish at actual research, but I feel I've overdosed on enough films and television adaptations to get me by. I'm particularly fond of the history of Briton. It feels homely, somehow, tracing back your routes, and our routes of course see the Roman Empire invade Briton, and I have a great interest in Rome too. I think it's a lot to do with the 'greatness' of the past. A friend said to me that I would love to live in the past, to which I replied, I would, but with antibiotics and a tube of Savlon.
Do you have a special place to do your writing?
Not especially, but I do end up doing both my writing and work as a book designer from one of those IKEA laptop tables whilst reclining on the sofa.
Which writers have inspired you?
Bernard Cornwell for being there when I moved from children's books to adult fiction (and I don't mean erotica!!). Cornwell apart, there are far too many to list, not to mention all the writers of
Triskele Books
ith whom I work so closely to bring good books to market.
And finally a fun question...
What books are on your bedside table?
The Iron King by Maurice Druon, which I'm half way through, The Kingmaker's Daughter by Philippa Gregroy, Good as Dead by Mark Billingham, the third in the Emperor series by Conn Iggulden which I missed out when I first read the series. Two books I never really got into and will probably give to someone who will like them more. And balancing on top is an iPad with a few books I browsed through on the iBookstore over the past week. I also have around 70 books I've just boxed up ready for moving house which I've not yet read …
JD Smith lives and works in the English Lake District. Having worked as a graphic designer since leaving school, her passion for books and everything literary took over and she now works predominantly on
book cover design and typesetting
. She is the editor of
Words with JAM
, a member of the
Triskele Books
group, and is the author of
Tristan and Iseult.
Thank you Jane - It's been a real pleasure to welcome you to our blog.

Jaffa and I are delighted that you could visit us, and we will be following your writing career with great interest.


Our review of Tristan and Iseult can be found