As a book reviewer I have made contact with authors from all across the globe and feel immensely privileged to be able to share some amazing work. However, there is always something rather special when a book comes to my attention which has been written by an author in my part of the North of England. So with this in mind I have great pleasure in featuring some of those authors who are literally close to my home. Over the next few Saturdays, and hopefully beyond, I will be sharing the work of a very talented bunch of Northern authors and discovering just what being a Northerner means to them both in terms of inspiration and also in their writing.
Today I welcome North West Writer


Debbie Johnson
Hi Debbie, welcome back to Jaffareadstoo - Tell us a little about yourself and what got you started as an author?
I'm 47 and a half, married with three kids aged between 9 and 19, and the proud dog mum to a pair of elderly and flatulent pooches – one black lab and one Golden Retriever. I'm originally from the Midlands (Stoke on Trent to be precise) but have lived in Liverpool for the last 25 years, which is terrifying now I put it into words! I moved here after university with my then-boyfriend, and ended up getting a job at the local newspaper, the Liverpool Echo. In what feels like about five minutes, I'd laid down roots – kids, work, schools, friends, extended family.
I took redundancy from my job in 2005 after the birth of my second child, and went freelance, doing journalism, PR and copywriting. Like most journalists, I'd always wanted to write a book – and the year I was 40 I finally got around to it! I entered a contest called the Harry Bowling Prize for New Writing, and amazingly won it. I'd like to say the rest is history, but it's taken years to get where I am now – which isn't even that far! There were a lot of rejections, a lot of failures, and a lot of frustrations. It's not a career for the faint-hearted. Obviously, it's not like working down a pit or anything – but you have to be resilient, I'd say.
I'm now published with HarperCollins, and write what I suppose I'd describe as warm-hearted fiction – there might not always be romance, but there will always be humour, and soul, and sometimes tears. Usually a dog as well!
Your books are written in North West England, but not always set in the North West – how have the people and its landscape shaped your stories?
My earliest books were set in Liverpool. There was a supernatural crime thriller called Fear No Evil which was published digitally by an imprint of Avon – it's still out there! It's not set the world alight sales-wise but has great reviews, and I have to say it's still one of my all-time favourite pieces of work. The central character is a Liverpool-based private detective, and she's awesome – smart, funny, kind, tough. A lot of the charm of the book, for me, is the way it reflects Liverpool in all its glory – the good, the bad and the ugly.
I also wrote two urban fantasy books set here – Dark Vision and Dark Touch – which were published by Ebury. That was a gift: which better modern UK city to use as a setting for vampires, magicians, and ancient Celtic Gods? I really enjoyed playing with the location, tapping into the Irish heritage here, and also making the Liver Birds come to life and fly away!
Liverpool is a fascinating place – an endless source of amusement, inspiration and yes, sometimes despair. I would love to write more books set here – though I often sneak it in. For example, in The Birthday That Changed Everything, the lead character is originally from Liverpool, and in my upcoming book The A-Z of Everything (there's clearly an Everything link – I'll call the next one Everything you Ever Wanted to Know About Everything!), one of the leads went to university here and ended up staying, so quite a few of the scenes are Liverpool-based.


As a writer based in the North West, does this present any problems in terms of marketing and promoting your books and if so, how do you overcome them?
I don't think it does, apart from a social and networking perspective – the parties and events are, inevitably, in London, as are most of the publishers and agents. But more and more we market ourselves online, which is geographically blind.


If you were pitching the North West as an ideal place to live, work and write – how would you sell it and what makes it so special?
I think for me it's the diversity. You have these magnificent cities – Liverpool and Manchester – that are teeming with life and energy; so historic and architecturally quite beautiful. There is always a buzz, always something going on, wonderful museums and galleries and music. Plus, you know, great places for a night out! But not very far away you have access to some of the most stunning landscapes in the world – the Lake District, the coastline, places like the Trough of Bowland and the Yorkshire Dales (though technically I am aware that's not the NW!). You can experience so many different versions of life in the North West – the solitary and the natural; the coastal and the mountainous, the thrillingly urban.
Plus, here in Liverpool,we're basically only a two hour train journey away from London – so you get the best of both worlds!
Writing is a solitary business - how do you interact with other authors?
I am lucky enough to have some close 'virtual' friends – other authors I email or chat to on the phone, who understand the experience. But as well as that, we're actually blessed with being the home territory for a lot of people I can meet up with in real life – at book launches, nights out, etc, there are writers I see a lot of. Jane Costello is one of my best friends (we worked together at the Liverpool Echo for many years), and there are also some other lovely people here. We didn't actually realise how many of us there were until we all met at a mutual friend's launch, and since then have stayed in touch and organised dinners etc.


How supportive are local communities to your writing, and are there ever any opportunities for book shops, local reading groups, or libraries to be involved in promoting your work?
I have had some signings at one of my local bookshops, and also taken part in a few events at the Waterstones in Liverpool. In all honesty I am a bit of a recluse, and tend to live like a hermit crab between school runs – I am sure there is a lot more I could do in terms of local outreach!
And finally, if someone is new to your work, which book do you think they should start with?
That's a tough one as I have written so many different styles! If you like crime and Liverpool, go for Fear No Evil. If you like fantasy and Liverpool, go for Dark Vision. If you like women's fiction with a lot of heart, go for the Comfort Food Cafe series. If you like very rude comedies with a hefty dose of sex and swearing, try the Birthday That Changed Everything! My next one – the A-Z – is slightly different again, and is really a story about love, grief and redemption within a family that has fallen apart.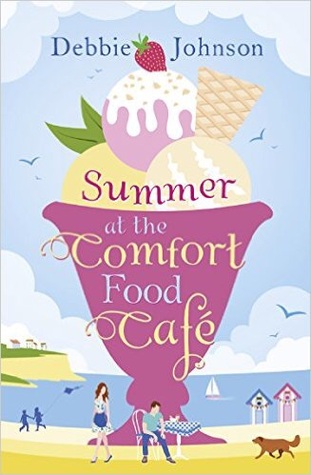 Huge thanks to Debbie for spending time as my guest today.
I hope that you've enjoyed reading more about Debbie's writing life in this

Close to Home Feature
Comin next week : June Taylor