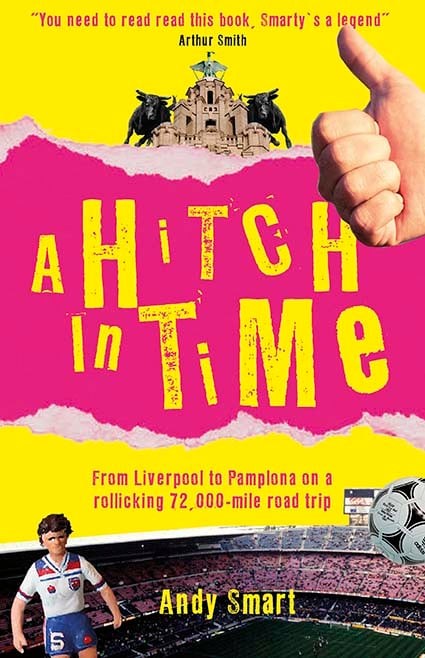 AA Publishing
25 July 2019

My thanks to the publishers and to Midas PR for my copy of this book
Combining comedy memoir, travel writing, and a wealth of unbelievable hair-raising situations, this autobiographical extravaganza chronicles the amazing early life of 80s comedy legend and Edinburgh veteran Andy Smart. Whether it's running with the bulls in Pamplona, juggling with pig's kidneys in Covent Garden, sharing a sherry with Samuel Beckett or sleeping on the beach in Biarritz, Andy's travels in the late 70s and early 80s comprised a series of jaw-dropping, bizarre and gut-wrenching scenarios from which, amazingly, he emerged unscathed.
What did I think about it..
A Hitch in Time captures the life of this funny man in so many ways and from the start of Andy's story I found myself laughing at loud at some of his antics and of his uncanny ability to hitch a lift with a host of quirky individuals who add so much comedy to the story. There's some serious stuff as well but throughout the whole of this memoir, the author's ability to make you laugh shines through it all.
From his student days in Liverpool, to running with the bulls in Pamplona and all stops in between there is never a dull moment or a minute when the author's natural exuberance doesn't shine through. And so easy is the narrative that it really feels as if you are sitting opposite the author in a pub somewhere and enjoying a pint or two as he recounts his latest escapade, and believe me this guy has had some really funny adventures.
There's a few that really stand out, especially the dare he took to travel by hitching a ride from Liverpool to Ben Nevis, climbing the mountain, and then hitching back to Liverpool and all within twenty four hours - now that really does take some skill, and whether he succeeds or not is for you to discover for yourself! Or of the times when he was hungry and strangers paid for his breakfast and those drivers who went out of their way to take him to places. It's not all about his travels though and there are lots of recollected moments from his childhood and of his family and friends which add a different dimension to the book.
A Hitch in Time
is an enjoyable travel memoir which would make a great holiday read especially if you're travelling around Europe.
It's published on the 25th July by
AA Publishing
About the Author
Eighties comedy legend Andy Smart is one of Britain's most versatile performers. A huge star of the 1980s, Andy is one of the revered veterans of The Comedy Store - London's internationally renowned and only full-time comedy venue. 1985 saw the birth of the Comedy Store Players, an improvisation group which Andy joined from the start alongside the likes of Paul Merton and Mike Myers. Andy continues to this day to perform hilarious improvised stand-up at the club every Sunday and Wednesday.
Twitter @AndyCSP #AHitchInTime
@TheAA_Lifestyle
@Midaspr